Review: Degiro Investment App
Learn more about trading stocks, buying crypto and metals with Degiro
General Information
DEGIRO, an Amsterdam-based European stock broker, was founded in 2008 and started offering online brokerage services to retail investors in 2013. Nowadays, it boasts an impressive +265% new accounts opened year-on-year, gaining an impressive +52% total users in a span of 12 months. Regulated by one of the most reputable European authorities and successfully defending its positions as Europe's up-and-coming fintech superstars, the company managed to grow to a pan-European status, currently serving investors in 18 countries and processing more than €75 billion a year in transactions at stock exchanges worldwide.
But is DEGIRO a good choice for a small-to-mid scale retail investor in 2023? Our team set out to investigate, bringing in three digital finance and banking experts, who each got "hands-on" with the platform and assessed it. In this review, we summarized their feedback and we'll be guiding you through the various pros and cons DEGIRO has, reviewing the fee schedule, assets available and more, so you can make an informed decision yourself.
⚠️ Warning! Investment is never without risk. You may lose your investment due to market risks involved. ⚠️

DEGIRO: Key Facts
| | |
| --- | --- |
| Founded | 2008 |
| Headquarters | Amsterdam, NL |
| Users | > 2'000'000 |
| Official website | degiro.nl |
| Crypto | Not available |
| Stocks | Stocks, Bonds, ETFs, Options, Futures |
| Metals | Not available |
| Card | Not available |
With a mission of making investing accessible to everyone who wants to act smart and shape their financial health themselves, DEGIRO looks to solve an intricate issue of making a complex investment product be simple enough to ensure adoption across the mass market while remaining powerful enough to attract a more advanced investor. With more than 86 international awards under their belt, here is how DEGIRO's take on solving this works (or does not!) in your favour.
DEGIRO: Exchanges & Markets Available
DEGIRO provides its users a one-stop shop access to more than 50 exchanges across 30 countries. The upside of their coverage compared to other European brokers is a wide range of exchanges available in North America (NASDAQ, NYSE, AMEX included next to the Toronto Stock Exchange) and Asia and Oceania (Australian Securities Exchange, and the stock exchanges of Hong Kong, Tokyo and Singapore). Of course, London SE is included as well, with continuous trading available to users.
The fees and cost structure at DEGIRO changes quite a lot during the turbulent expansion period, thus we urge our readers to familiarize themselves with the official and up-to-date pricing document of DEGIRO before committing to trading on the platform. However, it is worth noting that the recent changes to the platform's pricing in certain areas (for example, fees on purchasing shares of companies listed on most European stock exchanges) actually decreased the price for platform's users. Needless to say, this approach is a breath of fresh air for an industry full of cash flow-negative startups casually increasing their prices as the companies mature.
Update: As of 15.05.2023, DEGIRO's pricing changed - each order involving stocks traded on US or Canadian exchanges now incurs a €1 handling fee (up from €0). While it is an inconvenience for DEGIRO users, this is still a very minor amount that's ahead of the market. On the plus side, a new "Core Selection" was added, containing ETFs that could be traded at no cost, however, ETFs that are not part of it will still be charged as they previously were.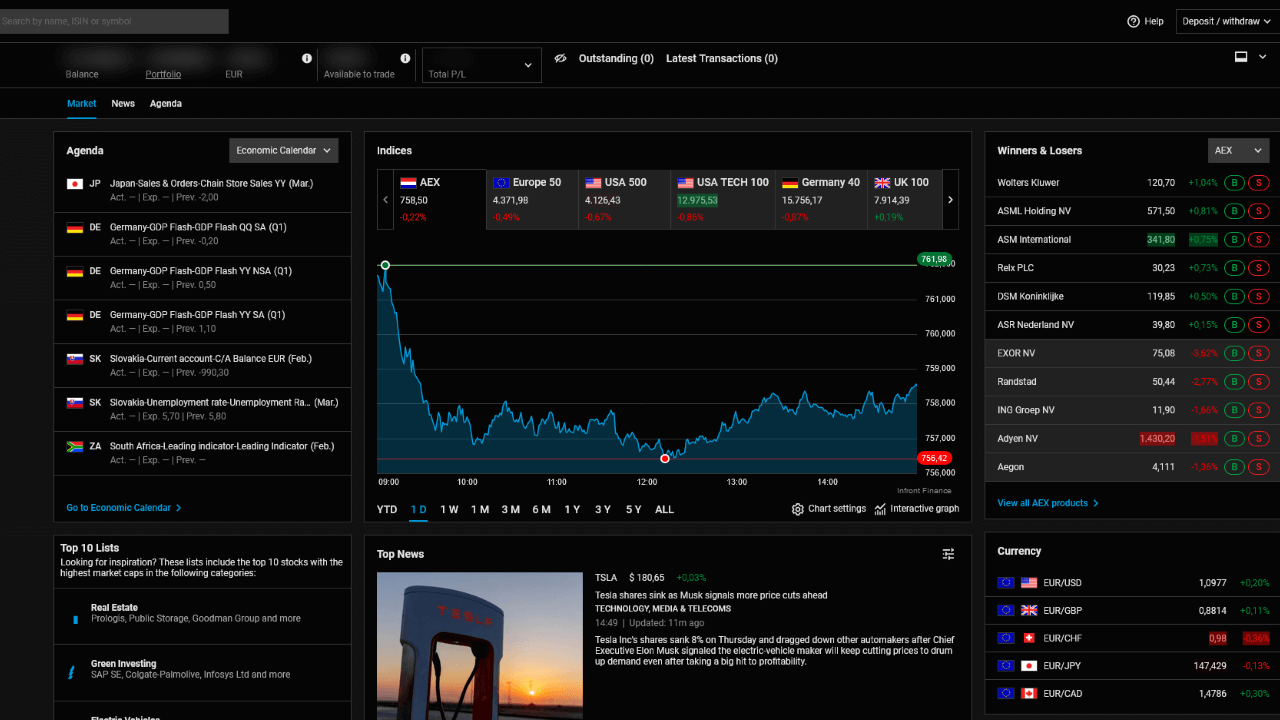 Securities & Products available
DEGIRO offers a wide range of securities and products to invest in. Among these are governmental bonds, stocks, options and futures, ETFs and other funds as well as the structured products for a more sophisticated investor.
Bonds
A bond is a fixed income financial product that allows an investor to lend money to an issuing entity, usually governments or corporations. In return, the buyer of a bond (the lender) typically receives regular payments, called coupons, until the issuer repays the principal, also known as the face value or par value, on the maturity date. The standard fee for executing a bond purchase/sale is set at €2,- per transaction, which is a pretty low fare compared to offers by the competition.
Stocks
We've already mentioned a wide array of exchanges available to DEGIRO users. Fees on UK stocks start at £1,75, EU stocks start at €3,90 (with NL/BE fees significantly lower at €2,0 per transaction), but what is interesting is that the stocks traded on the US exchanges are free of fees! The choice is not yet remarkable when it comes to overseas exchanges, but the surprisingly low (or absent) trading premiums are an excellent argument for trying out DEGIRO today. In total, the broker provides access to an impressive range of over 40'000 stocks for its users.
ETFs and funds
DEGIRO allows its users to trade a wide range of ETFs trading on 19 major exchanges, with over 200 ETFs being completely transaction cost-free. Prices for funds not included in the "core selection" are set at an industry-leading €2,0 per trade. The ETF collection stands at over 4000 available at the moment!
Options and futures
Due to their relatively high risk and above-average complexity as a product, options are best utilized by somewhat experienced investors. Options fee is €0,75 per contract, regardless of country. The same fee applies to futures contracts.
Advanced Investors
For experienced investors, DEGIRO offers a category of structured products. These include a broad range of financial instruments - for example, turbos, warrants and certificates. These products are typically issued by a third party (usually banks) and some of them even offer a built-in leverage. Trading these assets is deemed to be a "complex product for experienced investors", so you would need to complete a simple quiz to prove that you are, in fact, knowledgeable enough, before you can actually trade.
Multiply Your Wealth
Doesn't matter if you're just saving up for that summer vacation or if you're planning your retirement, the best time to start investing is now. Explore our curated list of the best investment platforms and apps available today at Fintech Compass. Make your money work so you don't have to.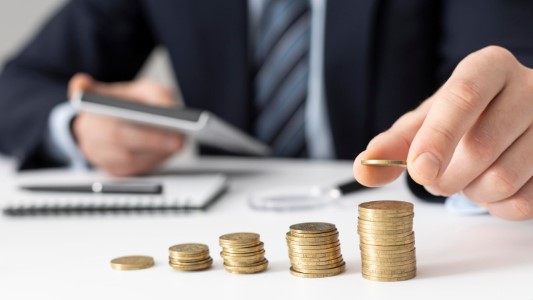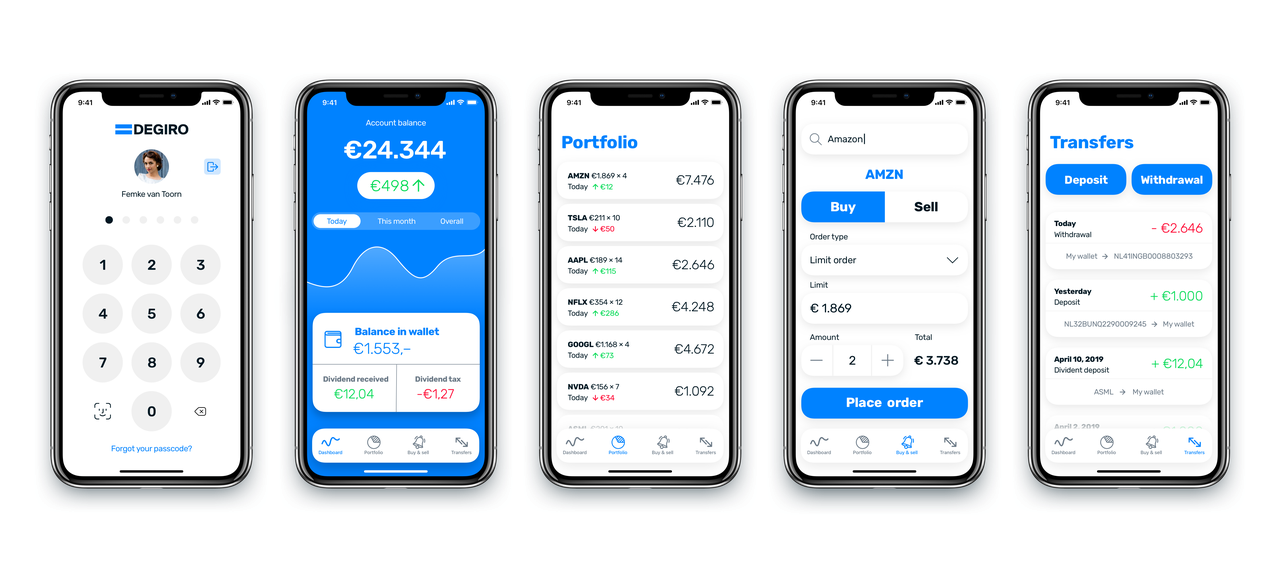 DEGIRO: Pros & Cons
Advantages
Powerful, yet easy to use: DEGIRO both comes with a range of products an advanced investor would be looking for, and is not overly complex to the point where simply buying and selling various assets would be difficult to execute. It is impressive how the trading app manages to balance between the two extremes.

Truly worldwide trading experience: with over 40'000 stocks and more than 4'000 ETFs available for trading, including these sold on exchanges in North America and Sout-East Asia, DEGIRO ensures it is the only trader you would ever need again.

Low fees and trading premiums: in our comparison, DEGIRO was consistently outperforming other platforms in terms of purchasing and selling costs. These, however, update too frequently for us to keep readers up-to-date, so make sure to study the official and up-to-date pricing document of DEGIRO before making a purchase.

Secure and reliable: with over 85 international awards and having certifications and licenses to operate in over 85 countries (read above them in the F.A.Q. section below), DEGIRO is an extremely reliable and trustworthy investment partner for individuals.

Start at €10: there is no minimum deposit required, so you are free to safely explore the platform by executing a few small trades before deciding if DEGIRO is what you are looking for.
Downsides
No Open API: while not a downside for an average retail investor, the lack of open API to access the platform might disappoint some of the most tech-savvy traders. However, that fact also implies that the third-party integrations are also somewhat scarce.

Internationalization Gaps: the company has just started its internationalization journey, which poses some hassle for expats. It is, however, not a downside if you intend to use the website/app in a language that is default for the country you reside in.

No Fractional Stocks: unlike services like Bitpanda, DEGIRO does not trade contracts replicating the underlying assets, but rather the assets themselves, meaning that you can not just buy €30 of Apple stock - you would need to commit to paying for a single share.

Cryptocurrencies not Available: not a huge downside, as experts always recommend using crypto-only "specialist" platforms like Kraken Digital Assets or US-based crypto exchange Gemini. These tend to offer better terms and domain expertise either way, so stick to traditional assets with DEGIRO and manage your cryptocurrencies separately.
Frequently Asked Questions
What countries is DEGIRO available in?
DEGIRO is available to residents of 18 European countries. Users from the following countries can use DEGIRO: Austria, Belgium, Czech Republic, Denmark, Finland, France, Germany, Hungary, Ireland, Italy, the Netherlands, Norway, Poland, Portugal, Spain, Sweden, Switzerland and the United Kingdom. The odd part of this geographic sprawl is that the platform is only available in just the local language and (for certain markets, for example, the Netherlands) English. Thus, a German user can not use the app nor the platform itself in French.
How do I contact DEGIRO?
The contact details for DEGIRO's support vary country by country - NL: klanten@degiro.nl, DE: kundenservice@degiro.de, FR: clients@degiro.fr. There is also an option of contacting customer support via telephone, make sure to check DEGIRO's website for up-to-date information.
Is DEGIRO a secure and trusted platform?
Definitely - the platform has all the documentation and certifications in place to ensure your money is safeguarded and the company undergoes frequent audits, is subject to various regulatory reporting and numerous AML and data protection policies. flatexDEGIRO Bank AG is primarily supervised by the German Bundesanstalt für Finanzdienstleistungsaufsicht (BaFin). In the Netherlands, flatexDEGIRO Bank Dutch Branch is subject to integrity supervision by DNB and conduct supervision by the AFM and the company's registration can be easily verified in DNB's publicly available register.
Does DEGIRO have a demo account?
No, DEGIRO does not provide a demo trading account.
Summary: Is DEGIRO the choice for retail investors in EU?
DEGIRO can definitely be considered an up-and-coming success story on track to becoming a key player in the European broker exchange market, thanks to its low fees, a wide and ever-expanding choice of securities available for trading as well as having a surprisingly responsive customer service. A prime example of Dutch accuracy and integrity combined with an inherently European transparency which occupies a very specific, yet populous niche of investors who are confident in their ability to navigate the investment market without solutions like bunq's "Easy Investments" or insanely beginner-friendly BUX app, yet not exactly at a full-time trader level.
With the only downsides one might experience being a lack of Open API (although that would only really impact those more tech-savvy) and a lack of proper localization (and despite the English translation not being perfect yet, the advantages of DEGIRO make it well-worth it to suffer through a rough learning curve), it's safe to say an average retail investor would not regret (both experience-wise and financially) diversifying their platform portfolio to trial out the Dutch fintech superstar.
⚠️ Warning! Investment is never without risk. You may lose your investment due to market risks involved. ⚠️
Featured Content