---
Looking for a new bank account but not sure which one is right for you? Are you in the market for a way to multiply your wealth by making your money works? Perhaps, you want to supercharge your business by switching to a new bank?
Look no further! We identified the most popular products on the market in multiple categories: bank accounts for individuals, business banking solutions, stock brokers, cryptocurrency exchanges and "all-in-one" investment & savings app. Our team of fintech experts already reviewed a significant amount of banks for personal banking, the best bank accounts for business banking and a wide range of trading and investment platforms, neobrokers & savings apps. But with so many options available, choosing the one that's right for you is not easy. You might have narrowed it down and find yourself deliberating between a few options. This is why we've selected digital finance products our visitors found the most attractive and compared them side-by-side against their closest competitors. Detailed comparison tables and explanations by professionals will make it easy for you to make an informed decision and be confident in your choice. We carefully reviewed each option and weighed their pros and cons to help you choose the best account that fits your (or your company's) unique needs.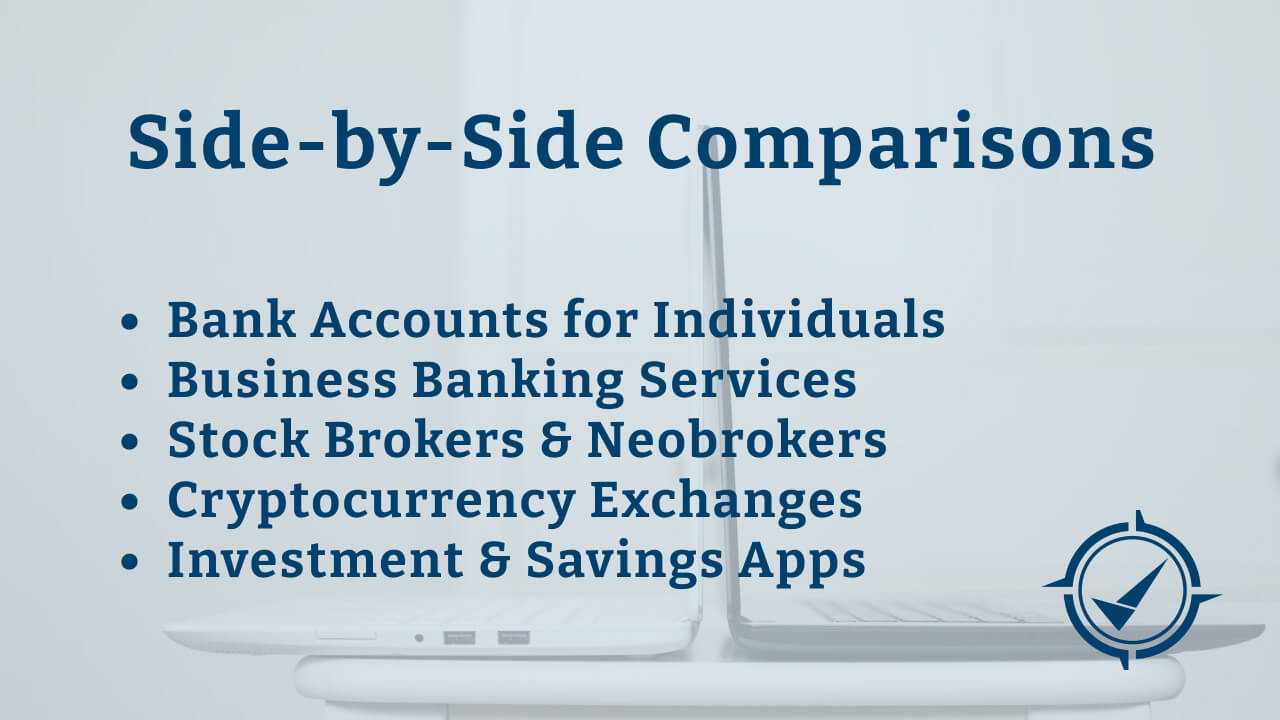 Personal Banking: Comparisons
In this section, we've compared some of the top personal bank accounts to help you find the one that best fits your needs. We've considered factors such as fees, interest rates, and additional features in our comparisons, so you can make an informed decision and choose the best option for your financial situation. It is important to keep in mind that there can be no universally "best" bank account, as banking needs vary as much as the individuals do. For instance, some people value convenient banking apps with exciting features, others might be inclined to choose a bank that makes it easy to invest, and don't forget these who just want to have a stylish metal card!
Skeptical about mobile-first banks? Learn more about pros & cons of digital banking. Looking for a joint account? We have a special guide on shared bank accounts and banks offering the best ones! And now, let's jump into it.
Revolut Premium vs Tomorrow Change
Monese Simple vs Revolut Standard
Tomorrow Zero vs bunq Easy Green
Tomorrow Change vs bunq Easy Money
bunq Easy Green vs Revolut Metal
Revolut Premium vs bunq Easy Money
Monese Classic vs bunq Easy Money
Business Banking: Comparisons
When it comes to choosing a bank account for your business, it's important to consider factors such as fees, interest rates, and additional features that can help your business grow and thrive. In this section, we've compared some of the top bank accounts for businesses to help you find the one that's right for your company. When assessing these, our experts considered factors such as transaction limits, number of free transactions per month, and access to business loans in our comparisons, so you can make an informed decision and choose the best option for your business.
Whether you're a self-employed "digital nomad" freelancer or a micropreneur in need of a basic checking account, or a large enterprise looking for a bank that can satisfy your significant needs, there's an option out there that's right for your business.
bunq Easy Bank vs Qonto Basic
Revolut Grow vs bunq Easy Money Business
Qonto Basic vs Anytime Start
Comparisons of investment platforms
If you're looking for a way to make your money work by investing your funds, you've probably already seen our rich selection of the most innovative, reliable and popular stock brokers, cryptocurrency exchanges, investment apps and "all-in-one" neobrokers. However, despite previously selecting the best products to assist you in multiplying your wealth available today, your personal preferences might sway you another way.
For instance, you might not know much about crypto (if that's the case, we highly recommend you take a look at our "Complete Beginner's Guide to Crypto"), yet looking to finally start adding Bitcoin or Ethereum to your portfolio of assets. This might mean a simple platform with an abundance of educational content (like Bitpanda or eToro) would be a better fit for you personally than a powerful exchange with thousands of coins represented like Kraken.
We asked our visitors and analyzed their preferences so we can clear up any confusion you might have when deliberating between alternatives. Below is an ever-growing list of "head-to-head" comparisons featuring some of the best products on the market.
Trade Republic vs BUX Zero (2023)
Choosing the right bank account is an important decision that can have long-term implications for your personal or business finances. We hope that our expert-reviewed comparisons of the top bank accounts will help you make an informed decision and find the best account for your needs. Whether you're an individual looking for a basic checking account or a business owner in need of a more advanced plan, there's an option out there that's right for you.
After choosing a suitable bank account and ensuring your basic financial needs are covered, we suggest diving deeper into the world of auxiliary financial services that save you time and money. Budgeting and savings apps for yourself, cash flow management and payment processing solutions for your business - half an hour of research can end up saving you thousands! The final step on your journey to financial health and well-being is ensuring your money are hard at work, even when you are not. In order to assist you, our experts reviewed an extensive collection of the most powerful investment tools available today. It includes the best brokers for trading stocks, ETFs and derivatives, a selection of top cryptocurrency exchanges and the most convenient "all-in-one" neobroker apps. Good luck!
Featured Content
Interested in boosting your financial knowledge? Make sure to visit our collection of educational, informative and "Best of" articles and ratings today - or select any of the latest articles below. Because in the 21st century, knowledge is key to your financial health.