Qonto Business Bank: Review (2023)
Learn more about Qonto's features and pricing in our comprehensive review
---
Qonto is an up-and-coming French fintech headquartered in Paris, France. Born "out of frustration with a lack of options", the bank's mission is to reinvent business banking by using design and technology to give entrepreneurs the best possible banking experience. Geared towards young and ambitious startup founders, business owners and digital entrepreneurs, the company aims to make their clients' day-to-day banking easy, while still providing a banking product that is on par with what is offered by traditional "brick-and-mortar" banks.
Qonto: Quick Facts
| | |
| --- | --- |
| Year Founded | 2016 |
| Headquarters | Paris, FR |
| Customers | 150'000+ |
| Official Website | qonto.com |
| Business Banking | From €9.00 p/m |
| Personal Banking | ❌ |
| Sign-up Bonus | 30 days free trial |
| Employee Access | Not available |
Being a relatively young challenger, you might be wondering if Qonto has what it takes to satisfy the banking needs of new-age digital entrepreneurs, freelancers and SMEs (also called "banks for professionals" in France). In this Qonto bank review we aim to provide you with exhaustive and up-to-date information so you can make an informed decision on whether opening a bank account at Qonto is the right choice for you and your business.
Find out more about Qonto and alternatives to Qonto by viewing featured articles that mention this bank available at Fintech Compass:
Countries supported by Qonto
Qonto is available for business banking to companies registered in the following countries: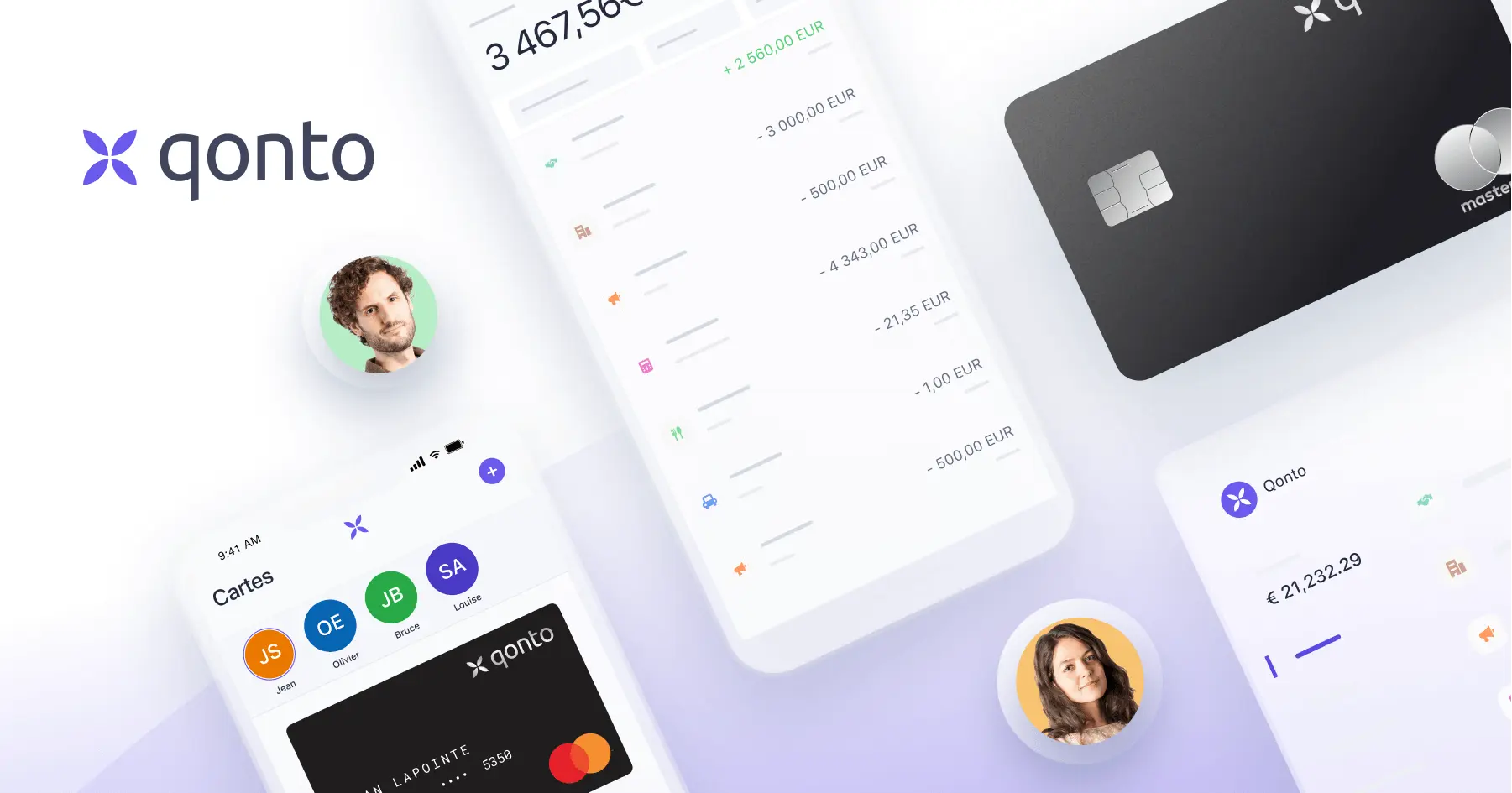 Qonto: Business Bank Accounts Available
Qonto offers 4 different plans, ranging from a sole proprietorship- and freelancer-focused "Basic" all the way to a respectable "Enterprise" tier with fully customizable feature sets, limits and pricing. Of course, all of the plans vary greatly in both price, quotas and the features available so you're very likely to find something that perfectly suits your company and its unique business banking needs.
Qonto Basic is aimed at self-employed workers and digital entrepreneurs. As Qonto's entry-level plan, Basic is a solid collection of essentials for managing your activity as a self-employed worker. With rich localization options and business-first focus of Qonto, Basic is a modern and secure way to solve your business banking needs at a very reasonable price point.
Qonto Smart is a mid-tier bank account made for managing your banking needs, efficient accounting and assisting you in running your business by getting rid of a lot of day-to-day hassles - for example, performing bulk transfers, storing digital receipts for your business expenses as well as providing the user with various tools for easy supplier management.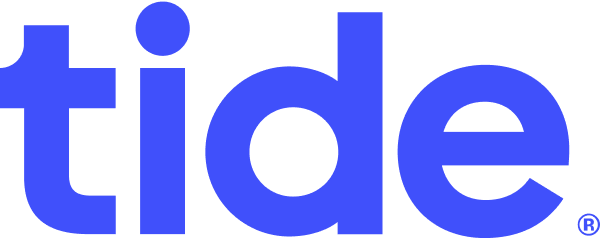 Featured Business Bank: Tide
Tide is a mobile-first business banking fintech that provides a fair range of digital banking solutions to freelancers and SMEs. Tide's offering is custom-fit for business needs of companies from the United Kingdom. FSCS-protected bank account in a simple, yet powerful product.
Premium is Qonto's top-of-the-line subscription for freelancers and entrepreneurs. Impressive package of features, great mobile app and a very reliable banking infrastructure make this plan a very attractive proposition for professionals looking for the ultimate solution to their business banking needs. This plan is a great "middle ground" if you want to reap the benefits of both digital and "traditional" banks.
Business bank accounts offered by Qonto can also be found in our selection of "one-to-one" comparisons between the best plans currently available on the market. Please find these detailed comparisons below:
Bank accounts for business banking by Qonto vary quite significantly both in the range of features available, business types they target, and, of course, in price. Find a detailed breakdown of all Qonto plans offered to businesses in our comparison table below.
Qonto: Business Accounts Comparison Table
Basic
Smart
Premium
Price, monthly
€ 9.00
€ 19.00
€ 39.00
Commitment
Cancel monthly
Cancel monthly
Cancel monthly
Sign-up Bonus
30 days free trial
Official Website
qonto.com
Accounts
IBANs
FR, IT, DE, ES
FR, IT, DE, ES
FR, IT, DE, ES
Sub-accounts Included
1
2
5
Shared Access
❌
❌
❌
Employee Accounts
❌
❌
❌
Mobile Payments
Apple Pay
✔️
✔️
✔️
Google Pay
✔️
✔️
✔️
Samsung Pay
❌
❌
❌
Other Methods
-
-
-
Cards
Cards Available
Mastercard
Mastercard
Mastercard
Cards Included
1
1
1
Maestro/VPay
❌
❌
❌
Debit Cards
✔️
✔️
✔️
Credit Cards
❌
❌
❌
Virtual Cards
✔️
✔️
✔️
Extra Card
€ 2.00 p/m
-
-
Replacement Fee
€ 10.00
€ 10.00
€ 10.00
Free Replacements
-
-
-
Metal Card
❌
❌
❌
Wooden Cards
❌
❌
❌
Payment Methods
iDeal
❌
❌
❌
SOFORT
❌
❌
❌
Bancontact
❌
✔️
✔️
Various Fees
SWIFT (Receive)
€ 5.00
€ 5.00
N/A
Foreign Exchange Fee
0.80%
0.70%
0.70%
Currency Limit, fee-free
-
-
-
ATM Withdrawals
Daily Limit
€ 1,000
€ 2,000
€ 3,000
Free Withdrawals, p/m
-
-
-
After, p/withdrawal
€ 1.00
€ 1.00
€ 1.00
Withdrawal Fee Abroad
€ 1.00
€ 1.00
€ 1.00
Interest Rate
Current Accounts
❌
❌
❌
Savings Accounts
❌
❌
❌
Transaction & Deposit Limits
Deposit Limit
€ 60,000
€ 80,000
€ 80,000
Deposit Protection
Up to €100'000
Monthly Spend Limit
€ 20,000
€ 60,000
€ 60,000
Other Financial Products
Overdraft
❌
❌
❌
Stocks & ETFs
❌
❌
❌
Cryptocurrencies
❌
❌
❌
Cheques
Up to €30,000
Up to €30,000
Up to €30,000
Cashback
❌
❌
❌
Insurance
❌
❌
❌
Lounges
❌
❌
❌
Expense Categorization
✔️
✔️
✔️
Purchase Protection
❌
❌
❌
Round-up Savings
❌
❌
❌
Cash Flow Control
❌
✔️
✔️
Deals & Discounts
✔️
✔️
✔️
Other Benefits
Cash flow dashboard
Supplier management
Invoicing tool
Learn More

Go to qonto.com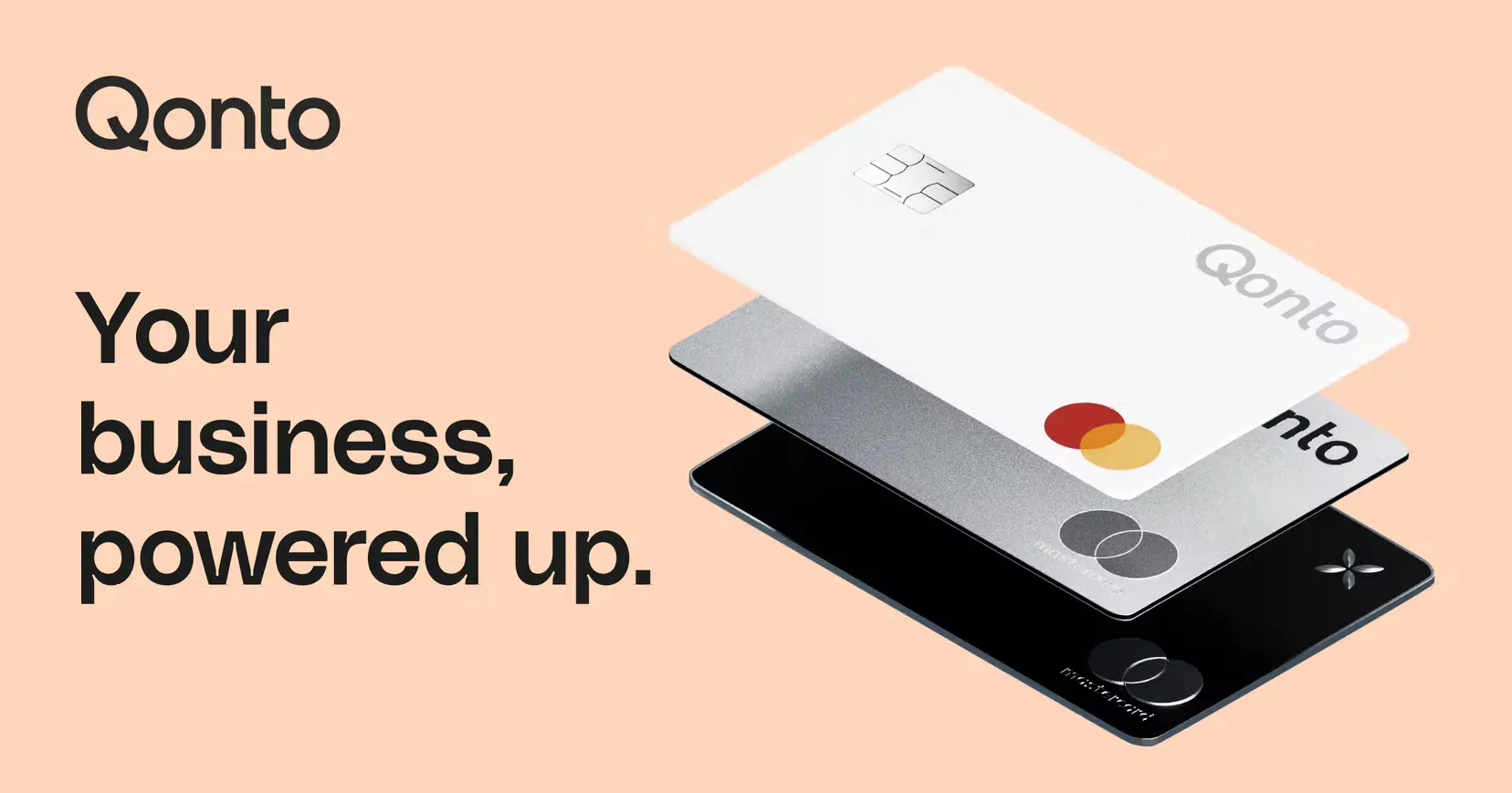 Best of both worlds: Even though Qonto positions themselves as a digital-first and very mobile bank, you can still get your fix of face-to-face interaction thanks to an ability to get in touch with your individual account manager.

Accounting made easy: Thanks to dozens of integrations already built and tens of others coming soon, automating the boring parts of your business has never been easier!

Control your business expenses: Set transaction limits for each of your cards online in just a few clicks. You can easily keep track of all related expenses in real-time.

Switching is easy: Qonto offers the first-ever bank mobility service for professionals (that's how they call businesses in France). For bigger companies, a dedicated "switch support" team is available.
Not technically a bank: Qonto is not a bank but a payment institution supervised by the Banque de France. Customers' funds are secured with Crédit Mutuel Arkéa and covered by the 'Fonds de Garantie des Dépôts et de Résolution' (FGDR) up to €100,000. That's also why cash deposits are not allowed at Qonto, just like loans or overdraft options.

Expensive: Despite an impressive product portfolio and a few unique features, Qonto still comes out quite a bit pricier than most other digital-first options.

French-speaking focus: Despite being available in multiple countries, Qonto still has a French-first focus, so you might encounter some imperfections in app's localization.

Review: Bitpanda
Austria's number one fintech company Bitpanda is an "all-in-one" investment platform offering over 50 cryptocurrencies, multiple crypto indices, stocks, ETFs and precious metals. Read our review and get €5 in BEST for free!
Qonto: Frequently Asked Questions
Does Qonto offer real bank accounts suitable for operating a business?
Olinda SAS (the payment institution using "Qonto" as a trade name) that is regulated and is overseen by the French Prudential Control and Resolution Authority (ACPR). This authority is representing Banque de France and supervises all of the French banks. Qonto routinely undergoes finanical and IT audits by the regulators and is subject to countless types of reporting and scrutiny. As an additional legal requirement, all user deposits (up to €100'000 per customer) are insured by the French Deposit Guarantee and Resolution Fund (FGDR). This ensures that the funds in your Qonto accounts are 100% safe at all times.
Can I use Qonto bank accounts if my business deals in crypto?
In case your businesses' main activities involve storing, purchasing or exchanging digital assets (cryptocurrencies, NFTs and other non-fiat assets), you can still use Qonto. However, you would only be able to use the bank account for your administrative expenses, such as making salary payments to employees, paying your company's bills, etc. Unfortunately, you would not be able to use your Qonto bank account for transactions to and from customers and/or payments that incur as a consequence of operating platforms used to distribute these assets.
Who can open a Qonto bank account from the organisation?
You can apply to register your Qonto bank account as one of the following: company's director; an association or cooperative's chairman; or in case you have a proxy.
Can you have virtual cards at Qonto?
Yes, Qonto customers can get an unlimited number of Mastercard debit virtual cards. These cards support contactless payments, Apple Pay and Google Pay, so you can use them both online and in physical stores. Keep in mind, however, that there is a spending limit of €20'000 per month per card.
Multiply Your Wealth
Doesn't matter if you're just saving up for that summer vacation or if you're planning your retirement, the best time to start investing is now. Explore our curated list of the best investment platforms and apps available today at Fintech Compass. Make your money work so you don't have to.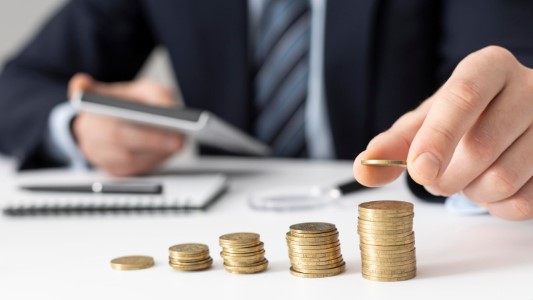 What are Qonto Flash cards?
Flash cards are disposable virtual Mastercard debit cards that aim to be the perfect solution for teams' one-off expenses. Using flash cards enables you to streamline the payment experience for standalone purchases. You can set a budget and a duration specific to the exact need, whether it's covering the employee travel expenses or paying for a dinner with your colleagues. Using Flash cards, it is also possible to pay online or offline by adding it to Google Pay / Apple Pay. Flash cards expire automatically on the date chosen when setting one up, so you do not need to worry about disabling one after you succeed with your transactions. Flash cards offer the same insurance, assistance benefits, and billing as Qonto One cards.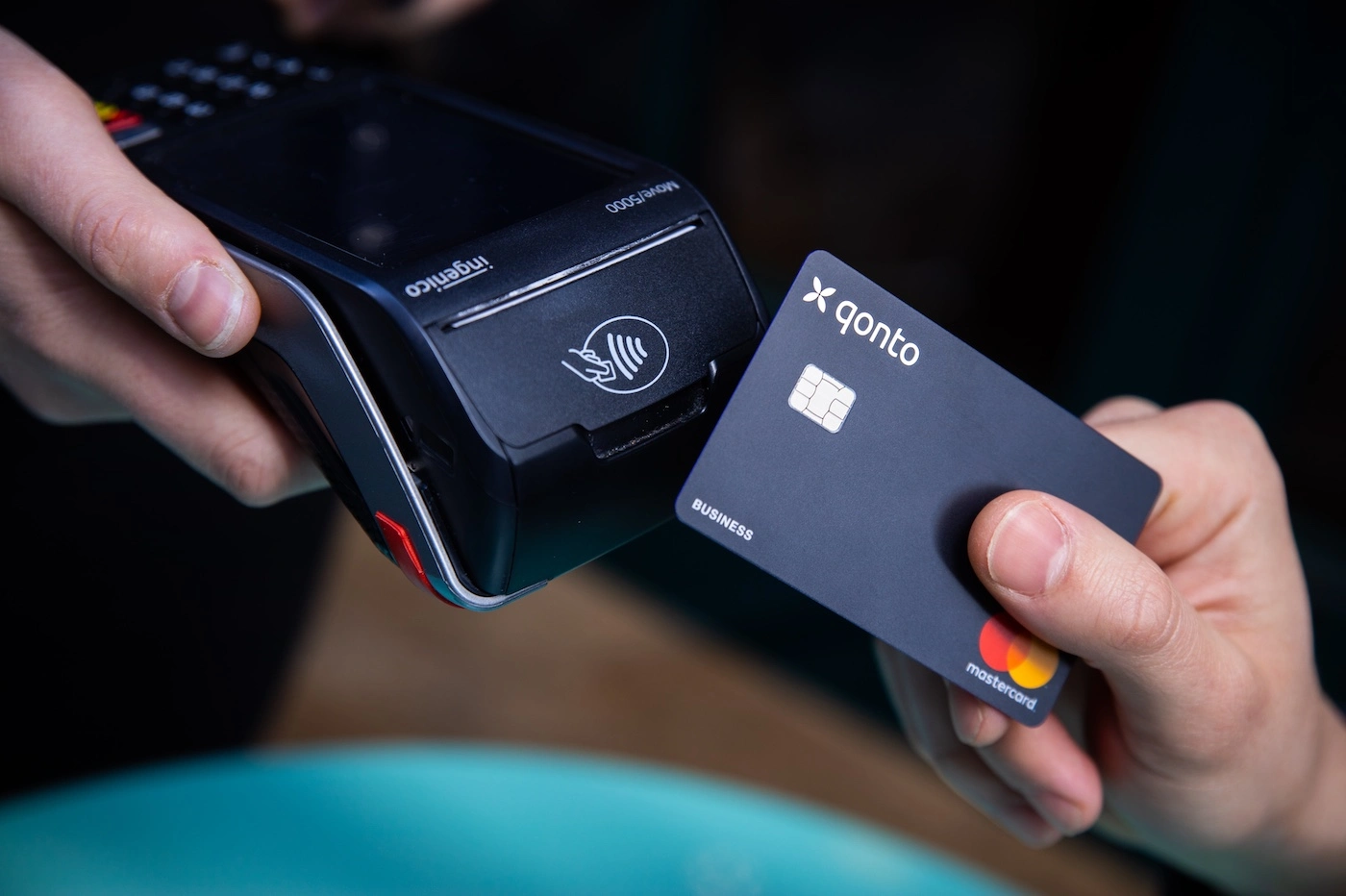 Does the feature set of Qonto lack something you are explicitly looking for? Perhaps, you are looking for a company account in a different price range? Or do you want to find a more powerful solution for your needs? Below, we will provide you with three Qonto alternatives other users found relevant.

Finom
Finom offers digital banking with built-in invoicing and expense management solutions for freelancers, self-employed and entrepreneurs, SMEs and companies under registration.
Read more

Free plan available

✔️

Currencies

EUR

Personal accounts

❌

Sign-up bonus

30 days free trial

Official Website

finom.co

bunq
Dutch neobank that gives you the freedom to bank like a local all over Europe. The bank's mobile apps are packed with unique and powerful features, and the fully fledged banking license bunq has ensures your money are 100% safe at all times.
Read more

Monthly cost

Starting from €6.99

Currencies

EUR, USD, GBP + 12

Personal accounts

✔️

Sign-up bonus

30 days free

Official Website

bunq.com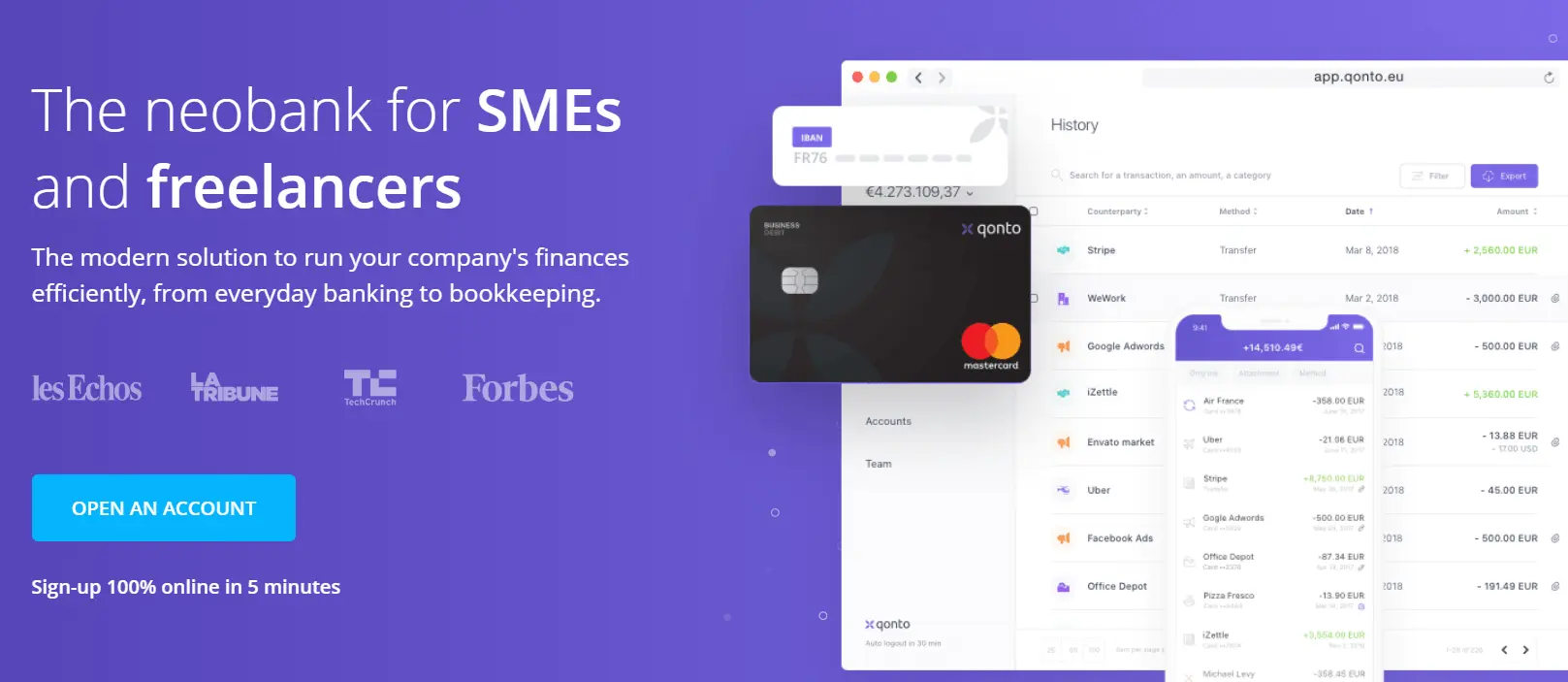 Summary: is Qonto a solid choice for professionals?
Qonto is a typical French bank. Despite the recent worldwide push for impersonal, fully digital and text-based communication, business in France just doesn't happen without some chit-chat and a few smiles and handshakes here and there. Which is why the real USP of Qonto is being a "half/half" option for people tired enough of traditional banks because of how slow they are or how they lack flexibility, but not yet ready to dive deep into mobile-first solutions other banks we reviewed already.
All in all, Qonto might be a great choice in a few cases: if your business has very specific needs regarding banking and wants to see the bank as flexible as possible; if you highly prefer having a dedicated account manager; or in case you deal a lot with cheque payments (something other digital-first banks rarely get involved with). Either way, it feels like Qonto found their niche - it's just between the "laptop and hoodie" millenial tech entrepreneurs and old-school "pen and paper" businessmen who are soon to retire. Do you fit in?
---
Read More