Learn more about bunq's features and pricing in our comprehensive review
---
bunq is a mobile-first bank from Amsterdam, Netherlands. Founded in 2012 by a tech entrepreneur Ali Niknam, bunq received a full-fledged banking license from the Dutch National Bank in 2015. This made bunq the first fully-licensed grassroots bank to appear in The Netherlands in the last 35 years. The company has since grown into a leading European mobile bank available in more than 18 countries, reaching over €2,5B in user deposits in early 2023. bunq has since been actively shifting its focus towards sustainability, enabling bunq users to have collectively planted over 10 million trees. The neobank offers a variety of plans for both individuals and business customers and this bunq review will guide you through all the pros and cons of opening a bunq bank account.

bunq: Quick Facts
| | |
| --- | --- |
| Active Since | 2012 |
| Headquarters | Amsterdam, NL |
| Total Users | 5'400'000+ |
| Website | bunq.com |
| Personal Banking | Free plan available |
| Business Banking | From €6.99 p/m |
| Sign-up Bonus | 30 days free |
| Shared Accounts | Available |
bunq offers online banking for both individuals and companies via a slick mobile app available for both Android and iOS. As bunq's banking license originates from The Netherlands, users automatically get a bank account with a Dutch IBAN (International Bank Account Number), however, customers from Germany, France, Italy and Spain get a bank account with an IBAN from their country by default. A new feature called "Local IBANs" also allows users to get multiple bank accounts from various countries. But is bunq bank any good? Find out in our in-depth bunq review below.
Also in Dutch 🇳🇱, German 🇩🇪 or French 🇫🇷
This bunq bank review is also available in Dutch, German and French. Discover bunq plans, the infamous bunq Updates and explore the rainbow-colored bunq cards by Mastercard in our localized reviews.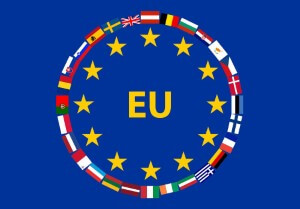 bunq: Countries Supported
bunq is available for citizens and permanent residents of the following countries: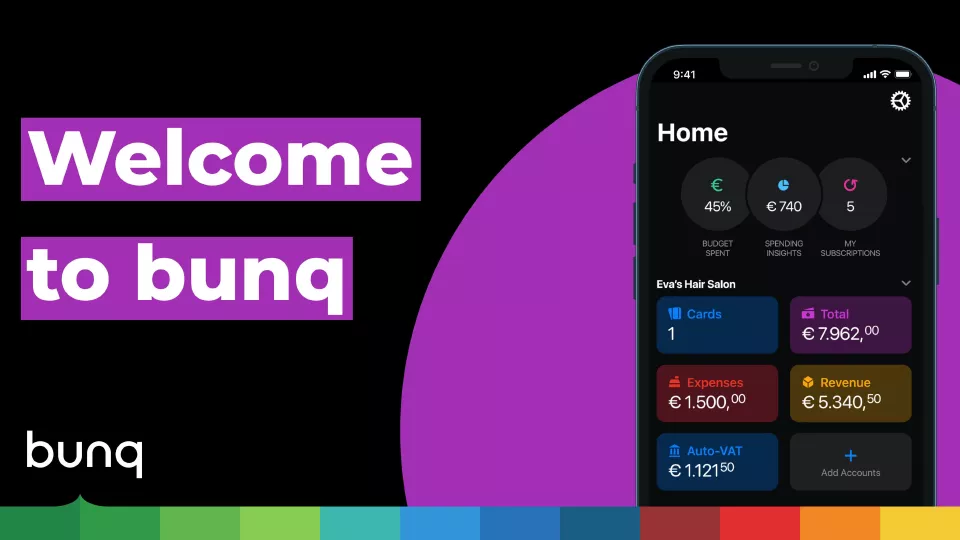 Plans available: Personal banking
bunq has a grand total of four different subscriptions available to both individuals and businesses. They all have funky names that reinforce bunq's idea that managing personal finances does not have to be as complicated as some banks make it. These four plans are: Easy Savings, Easy Bank, Easy Money and Easy Green.
Review: bunq Business
Find out if bunq is a good fit for your business banking needs today. Read our in-depth review of bunq bank accounts and cards for entrepreneurs, freelancers and SMEs.

Easy Bank, an entry-level plan of bunq, is a very basic bank account you'd use for your everyday expenses. Despite only offering one card with this plan, it is as a full-blown account, allowing you to enjoy inter-bank exchange rate on your travels, as well as categorizing your payments and getting interest rate on the funds in your current account, providing serious security and a rainbow-colored card. Just like the name suggests, it is a solid choice when looking for a simple bank.
Easy Money is a plan that allows you to bank like a local all over EU. With IBANs from multiple European countries and an array of various cards with global acceptance included in subscription, bunq's Premium-tier plan is a great choice for hassle-free banking. This plan will not only cover your day-to-day needs, but also provide a few "wow" features that will make you excited to be banking at bunq!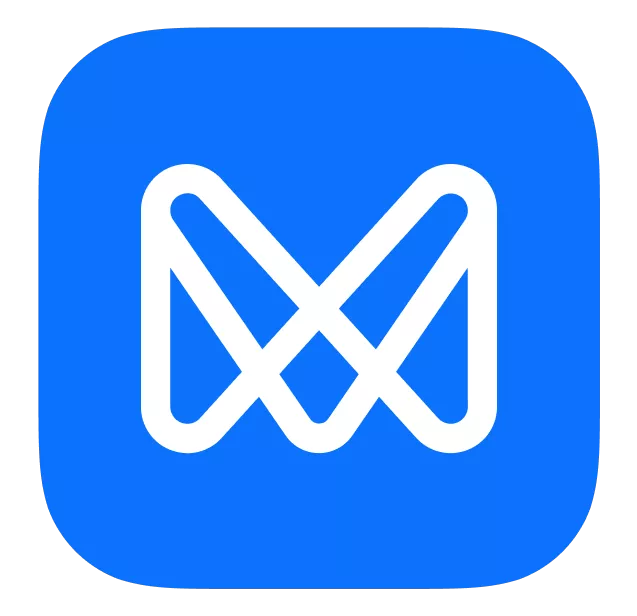 Featured Bank Review: Monese
Monese offers excellent currency exchange rates, an easy way to transfer money abroad in over 30 countries along with a great mobile app. Aimed at "digital nomads" from all over the EU, neobank offers customer support in 14 languages.
Easy Green is bunq's top-of-the-line plan at a premium pricepoint. The main advantage over lower-tier Easy Money plan is an ability to effortlessly offset your CO2 emissions thanks to automatically planting a tree for every €100 spent from your bunq account. On top of this, Easy Green features invoice scanning using your phone's camera, extended warranty and purchase protection.
bunq's bank accounts are also featured in our selection of in-depth "one-on-one" comparisons of the most popular and the best bank accounts in Europe. Read these using the links provided below:
Find a detailed breakdown of feature sets and pricing details for various plans offered by bunq in our comparison table below.
bunq: Plan Comparison Table

Easy Bank
Easy Money
Easy Green
Price, per month
€ 2.99
€ 8.99
€ 17.99
Commitment
Cancel monthly
Cancel monthly
Cancel monthly
Sign-up bonus
30 days free
Website
bunq.com
Accounts
IBANs
NL, DE, FR, ES, IE
NL, DE, FR, ES, IE
NL, DE, FR, ES, IE
Sub-accounts included
1
25
25
Shared accounts
❌
Up to 10 people
Up to 10 people
Child accounts
❌
✔️
✔️
Mobile Payments
Apple Pay
✔️
✔️
✔️
Google Pay
✔️
✔️
✔️
Samsung Pay
❌
❌
❌
Other methods
-
-
-
Cards
Cards available
Mastercard
Mastercard
Mastercard
Cards included
1
3
3
Maestro/VPay
✔️
✔️
✔️
Debit cards
✔️
✔️
✔️
Credit cards
✔️
✔️
✔️
Virtual cards
❌
✔️
✔️
Extra card fee
€ 3.49 p/m
€ 3.49 p/m
€ 3.49 p/m
Replacement fee
€ 9.99
€ 9.99
€ 9.99
Free replacements
1 per year
1 per year
1 per year
Metal card
❌
✔️
✔️
Wooden cards
❌
❌
❌
Payment Methods
iDeal
✔️
✔️
✔️
SOFORT
✔️
✔️
✔️
Bancontact
✔️
✔️
✔️
Various Fees
SWIFT (receive)
€ 5.00
€ 5.00
€ 5.00
Foreign exchange fee
2.00%
0.50%
0.50%
Currency fee-free limit
-
-
-
ATM Withdrawals
Daily limit
€ 1,000
€ 1,000
€ 1,000
Free withdrawals, per month
-
6 times
6 times
After that, per withdrawal
€ 0.99
€ 2.99
€ 2.99
Withdrawal fee abroad
€ 0.99
€ 2.99
€ 2.99
Interest Rate
Current accounts
❌
❌
❌
Savings accounts
1.56%
2.01%
2.01%
Transaction & Deposit Limits
Deposit limit
-
-
-
Deposit Protection
Up to €100'000
Monthly spend limit
-
-
-
Other financial products
Overdraft
❌
❌
❌
Investments in-app
❌
✔️
✔️
Crypto trading
❌
❌
❌
Cheques
❌
❌
❌
Cashback
❌
❌
❌
Insurance
❌
❌
❌
Lounge access
❌
❌
❌
Transaction categorization
❌
✔️
✔️
Purchase protection
❌
❌
Extended Warranty
Round-up savings
❌
✔️
✔️
Budgeting features
❌
✔️
✔️
Deals & Discounts
❌
✔️
✔️
Other benefits
True Name, iDIN
Dual PIN, Auto-invest
Auto-CO2 offset
Learn more

Go to bunq.com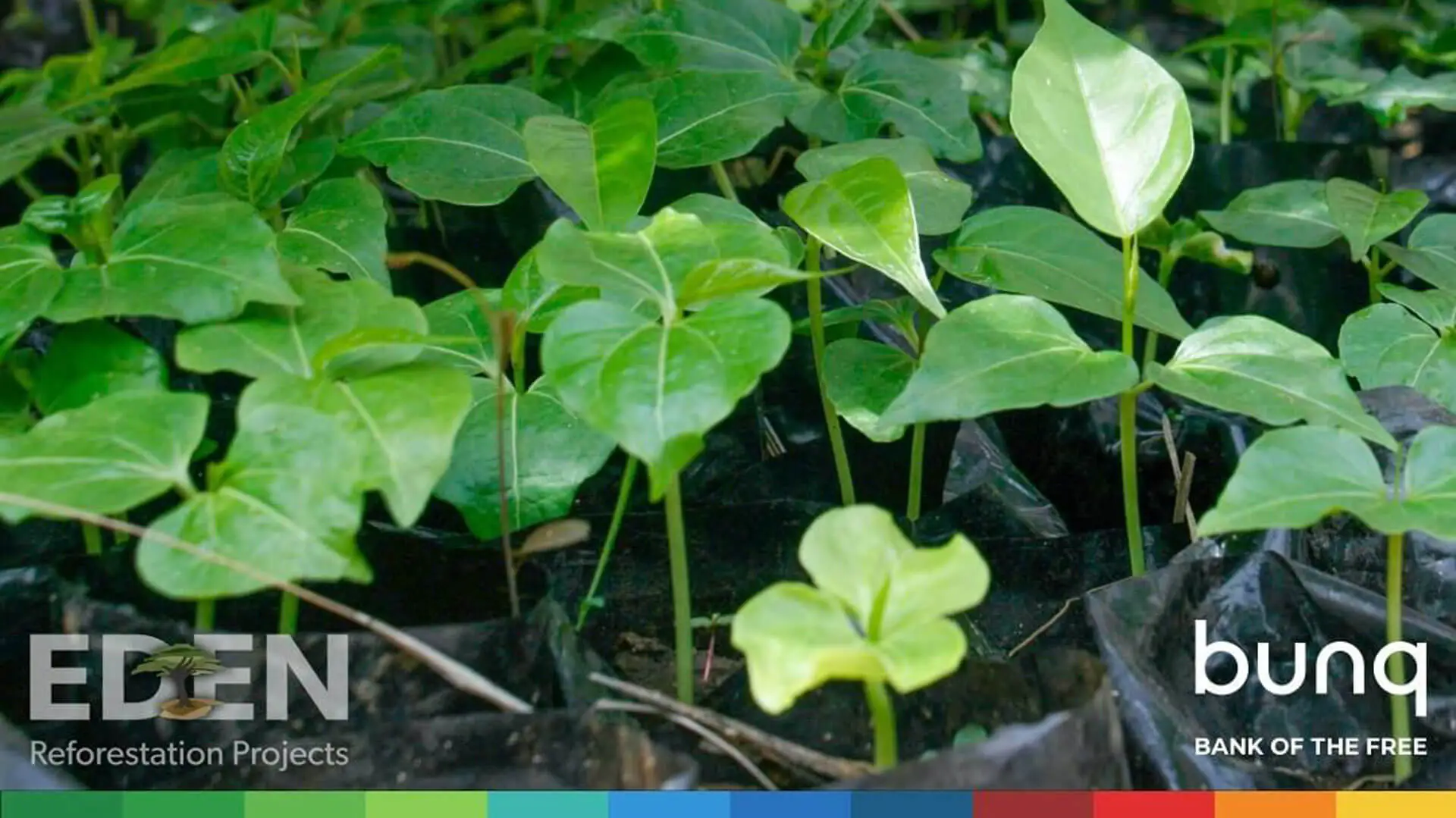 Dual PIN
Thanks to an ability to create up to 25 standalone bank accounts each with its own IBAN within your bunq account, you can easily budget by separating your recurring expenses, entertainment allowance, groceries and savings into separate accounts. However, adding 3 bunq credit or debit cards and Dual Pin to the mix supercharges that option - you can, for example, set up one of your cards in a way that entering one PIN at checkout makes the transaction deduct money from your "Groceries" account, and entering another PIN code automatically uses the bank account you share with your partner or roommates. Extremely cool and allows you to take smart budgeting to a whole new level!
bunq.me
Somewhat poorly explained on bank's website, bunq.me is your personal payment request link. For each of your accounts, you can create a unique URL, which you can then share with all of your friends to get paid back easily and quickly. With a URL like "bunq.me/yourname", it's easy to remember, and you can get paid back immediately after creation. You can collect payments via iDEAL, SOFORT, simple SEPA transfers and even credit card payments (although, these do come with a rough 2,5% fee). The link is fully customizable, and you can change the text, account it's linked to as well as a background picture. Never has getting money back from your friends after buying a communal birthday present been easier than with bunq.me!
Mass Interest
As of February 2023, bunq offers one of the highest interest rates on savings accounts for all users. Creating a savings account at bunq bank is free and can even be done on an "Easy Investments" account without a monthly fee. Once you create an account, any funds you deposit into it start earning you 1,56% interest rate per year (which increases to 2,01% for Dutch users and above 2,5% for customers from Germany!), and the earnings appear in your account monthly, on the first day of each month. However, it is important to note that you can only withdraw money from savings accounts twice a month, but the good news is that there is no limit to the amount you can withdraw, so it really isn't a major issue.
bunq Mortgages
World-first for a neobank, at the beginning of 2022, bunq announced launching mortgages under its brand name. Only available to users in the Netherlands at this moment, bunq's promise is hassle-free mortgage with the first offer in as fast as 24 hours! In reality though, despite bunq acting as an investor and providing deposits to be used for the purchase, the user-facing aspect is not really there - all bunq does is connect you with a mortgage advisor from a third party.
True Name
bunq were the first to start offering MasterCard True Name in Europe. In the day and age where people might not have an easy time identifying with the name assigned to them at birth and present in their IDs, bunq offers users an option to choose the name to be displayed on their cards, whatever they want it to be.
Insights
Automatic payment categorization (which, of course, you can manually tweak yourself) provides you with a neat overview of your past expenses (split into tabs like "Household", "Entertainment", "Groceries", etc), while the (admittedly poor) balance prediction graph lets you plan your budget for the next few weeks.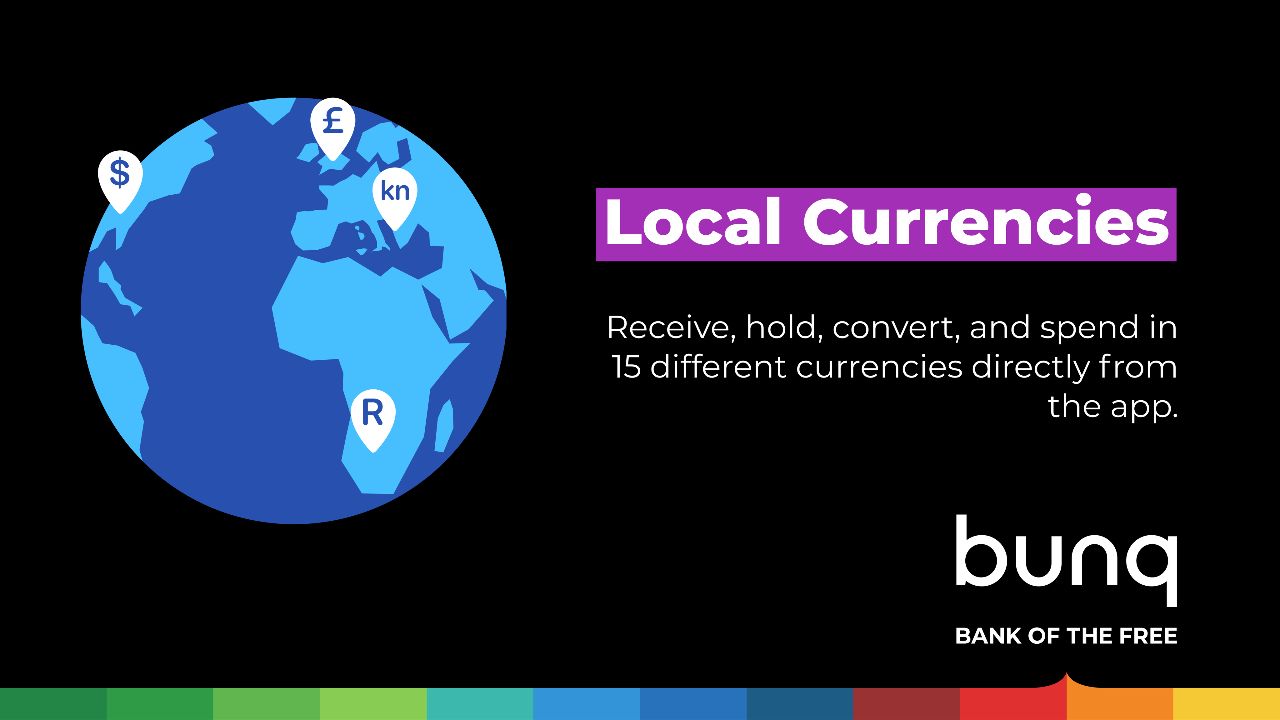 Flexibility for budgeting: especially if you get Easy Money or Easy Green, it's quite simple to set up a sub-account for all your budgeting categories and making it possible to have a clearer idea of your finances. Their Payment sorter feature distributes your income automatically based on your choice to your sub-accounts.

Local IBAN and bank details: customers in Germany, France, Italy and Spain can have local IBAN for their sub-accounts with bunq, customers elsewhere will get Dutch IBANs by default.

Unique features: bunq offers some pretty unique features that you might find handy. Dual PIN, for example, allows you to link one card to 2 of your sub-accounts.

Freedom of Choice: bunq takes a stance on ethical investments and has even given that power to its customers. You can choose in the app where your deposits can get invested.

Become green without doing anything: with the Easy Green plan you can contribute to the forestation of specific regions in the world by making payments with your card.
Cost: obviously, the plans at bunq are quite a bit pricier than you'd expect, however, if you're using bunq to its fullest (payments in currency, multiple active cards, using a few sub-accounts, etc.), it still comes out way cheaper than the competition. The question is if you indeed need all of that at your disposal.

Customer service: all support questions are dealt with digitally through bunq's in-app customer support chat or email. If you are really keen to speak with someone about your questions then bunq might not be for you (which, to be fair, is also the case with most digital banks out there).

An abundance of marketing communication: bunq really likes to ensure their customers are aware of what's hot this month.

Somewhat confusing UI: it's really not that bad if you get used to it, but some things are just not intuitive at all even after using the app for some time.

Not all payment methods supported: while bunq does support Apple Pay and Google Pay, some of the lesser known methods are not available. For example, bunq does not support Garmin Pay or Fitbit Pay. Samsung Pay is also unavailable to bunq users.

Review: Bitpanda
Austria's number one fintech company Bitpanda is an "all-in-one" investment platform offering over 50 cryptocurrencies, multiple crypto indices, stocks, ETFs and precious metals. Read our review and get €5 in BEST for free!
bunq: Frequently Asked Questions
Is bunq a real bank? Is it a trustworthy financial institution?
bunq has a full official banking license granted by one of Europe's strictest and most respected regulators, the Dutch National Bank. That means all user deposits (up to €100'000) at bunq are insured via the Deposit Guarantee Scheme backed by the government of The Netherlands. That also means that the bank undergoes the same level of scrutiny and compliance checks that bigger "traditional" banks like ING, ABN-AMRO and Rabobank do.
Do I get a Dutch IBAN with bunq?
Even though bunq is a Dutch bank, users residing in Germany will get German IBANs, just like residents of France and Spain would get French and Spanish IBANs respectively. Users from other countries get a Dutch IBAN (starts with "NLXX BUNQ ..."). You can also get bank accounts in multiple countries at bunq, but that niche feature comes for an additional cost. And, just in case, IBAN stands for "International Bank Account Number".
Does bunq have hidden fees? What's the actual pricing?
Most of the "bread and butter" banking services are already included in the bunq subscription. That means there are no fees for having up to 3 active physical cards and 5 virtual ones, just like there are no fees on bank transfers in Europe, having multiple sub-accounts or the first 4 ATM withdrawals a month. There are, of course, exceptions - SWIFT payments, holding very large (over €100'000) amounts in your account or replacing your lost card more than once a year are examples of that. Make sure to read through the pricing document on bunq's website.
How does bunq Pack work?
bunq Pack allows you to have up to four Easy Money personal (or 3 personal and 1 business) subscriptions for a reduced price of €24,99 (€6,24 per account). One account becomes the "pack owner" and gets billed €24,99 every month, the other pack members then receive a monthly €0,00 (yes, zero!) invoice. The smart thing to do when joining a pack is to set up a recurring payment of your share to the pack owner triggering every month and forget about it!
Multiply Your Wealth
Doesn't matter if you're just saving up for that summer vacation or if you're planning your retirement, the best time to start investing is now. Explore our curated list of the best investment platforms and apps available today at Fintech Compass. Make your money work so you don't have to.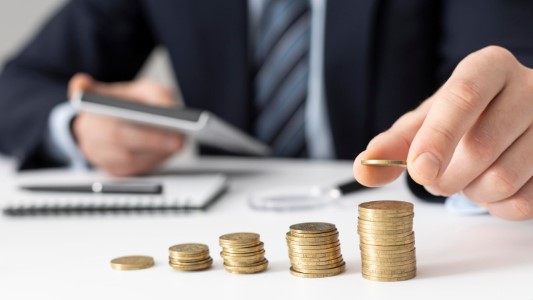 What's a bunq Travel Card?
bunq Travel Card is a discontinued product and subscription. It is now called simply "bunq Credit Card". The benefits of the travel card (for example, ZeroFX, the "no exchange rate, save up to 3% in currency" feature) are also available using a "standard" bunq credit card. And it looks the same!
Can you have a shared or joint bank account at bunq?
Yes! In fact, this feature is free and included in Easy Money and Easy Green plans. There are two ways to share an account at bunq and the difference is subtle, but significant from a legal point of view. One option is called "Connect": providing access to your bank account (called "sub-accounts" at bunq - you can have up to 25 for free!) to up to 9 other people. The other, called "joint account", is a bank account with multiple equal owners. You can also have a shared savings goal, where both your and your partner's daily expenses are rounded up to the nearest euro, and the spare change gets transferred to a shared bank account with a set goal (say, a trip for two!).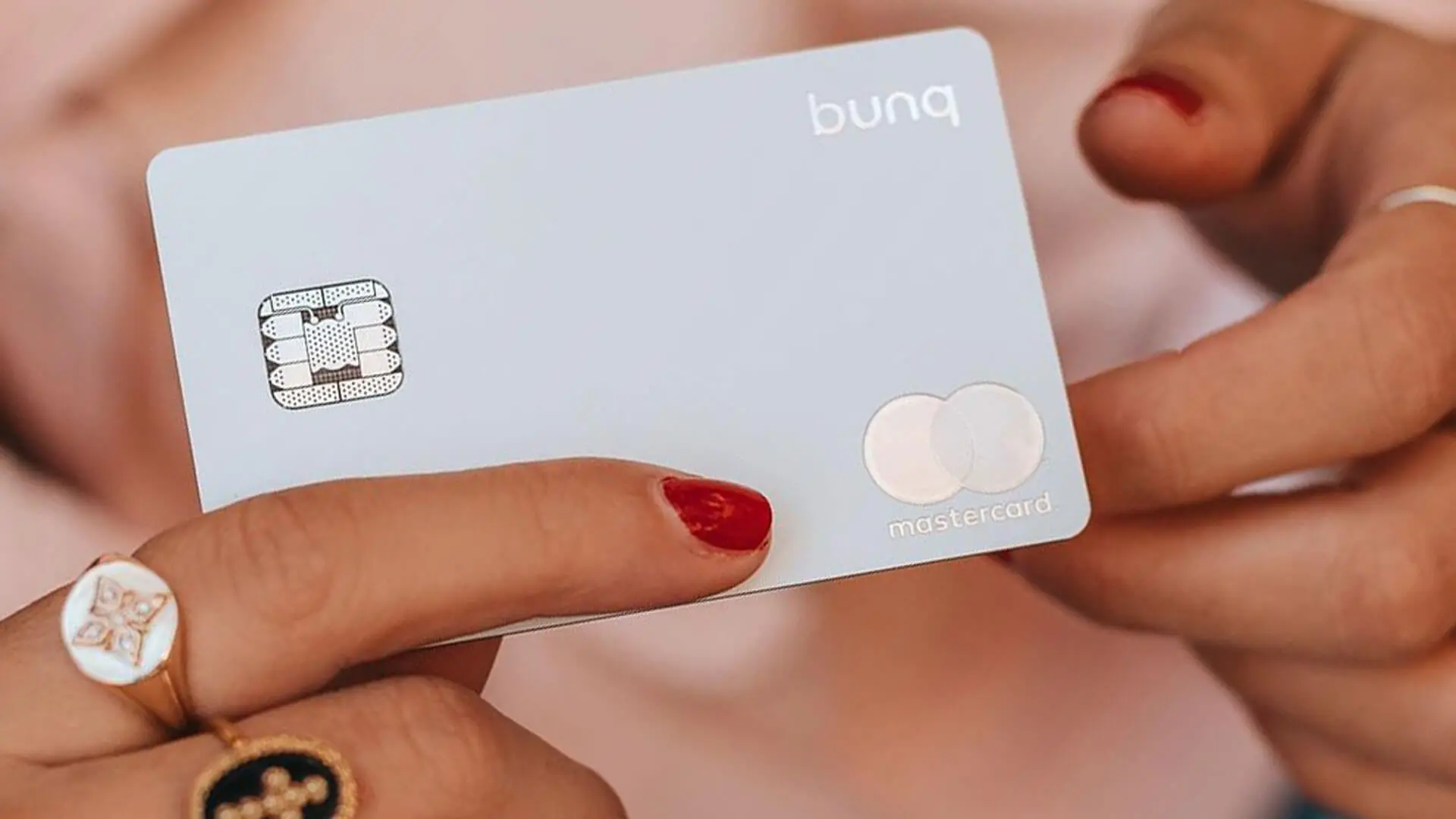 Looking for a different bank offering bank accounts that are similar to bunq? Find our selection of three bunq alternatives that might better suit your needs below.

Conclusion: Is bunq worth the price tag?
bunq definitely has quite a lot to offer to the user. From automatic salary sorting in essentially unlimited sub-accounts and automatic payment categorisation, to shared accounts included in subscription and personalized payment request links, there's nothing bunq can't do. However, it does come at a price (with Easy Money plan being by far the best value for money), and the price is a bit higher than a few euros a month. bunq has a tendency to overhaul their features, plans, the app's UI and core concepts quite a lot. It's evident the company's still in active discovery phase, so it rarely goes a few months without a change, but the recent niche it seems to want to occupy is essentially being a Gen Z "social experience". A completely unnecessary and an incredibly buggy attempt at recreating Google Maps that borders on creepy that no sane person would ever opt in to? An Instagram-like "Community" tab with a feed full of travel advice and news nobody cares about? I doubt there's even a single person on Earth who'd want these in their personal banking app. It's a shame bunq doesn't just proudly stick to what's great about it (unique features, powerful OpenAPI with endless automation possibilities, and generally enabling users to bank the way they want) and instead awkwardly tries to hop on the bandwagon of what's trending nowadays.
But, greenwashing and "social" craze aside, bunq still is a solid high-tech neobank with a full-fledged banking license granted by a reputable regulatory authority in one of the world's best countries in terms of justice systems and economy. bunq is a true budgeting and money administration powerhouse that's insanely convenient when you finally get used to a non-intuitive and cluttered app. Besides, having 3 cards of any type you want (Maestro, MasterCard Debit and Credit), as well as virtual cards for safe online payments!) included in your plan is extremely useful, no matter how you do your banking! bunq offers a 30 days "no strings attached' free trial of their most expensive plan (Easy Green) completely free (and it will prompt and notify you before the trial ends), and you can order as many as 3 physical cards for free in that time frame. We hope you enjoyed our bunq bank review. Try it yourself and see if it's something that's right for you yourself, and you'll have a month to decide if it's worth it.
---
Read More