Review: bunq Business Bank Account (2023)
Learn more about bunq's features and pricing in our comprehensive review
---
bunq is The Netherlands' most recent unicorn and a mobile-first bank based in Amsterdam. Founded in 2012 by a tech entrepreneur Ali Niknam, bunq received a full-fledged banking license from the Dutch National Bank in 2015. The company has since grown into a leading European mobile bank available in more than 18 countries, reaching a grand total of over €1B in assets under management back in March 2021. bunq has since updated the plan structure and expanded their offering. Today, Dutch neobank offers a variety of plans for both individuals and business customers. This review will guide you through the advantages as well as drawbacks of getting a business bank account with bunq.

bunq: Quick Facts
| | |
| --- | --- |
| Year Founded | 2012 |
| Headquarters | Amsterdam, NL |
| Customers | 5'400'000+ |
| Official Website | bunq.com |
| Business Banking | From €6.99 p/m |
| Personal Banking | Free plan available |
| Sign-up Bonus | 30 days free |
| Employee Access | Available |
Also in Dutch 🇳🇱, German 🇩🇪 or French 🇫🇷
This bunq bank review is also available in Dutch, German and French. Discover bunq plans, the infamous bunq Updates and explore the rainbow-colored bunq cards by Mastercard in our localized reviews.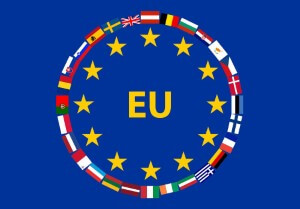 bunq offers online banking for both individuals as well as businesses via a simple, yet powerful mobile app available for both Android and iOS. bunq's full official banking license is granted by a regulator from The Netherlands, as such, companies registering a bank account at bunq automatically get a bank account with a Dutch IBAN (International Bank Account Number), however, businesses based in Germany, France and Spain get IBANs from these countries. A new feature introduced by bunq, "Local IBANs", allows your business to have bank accounts from multiple countries, which may come in handy for tax purposes.
Find out more about bunq and alternatives to bunq by viewing featured articles that mention this bank available at Fintech Compass:
Countries supported by bunq
bunq is available for business banking to companies registered in the following countries: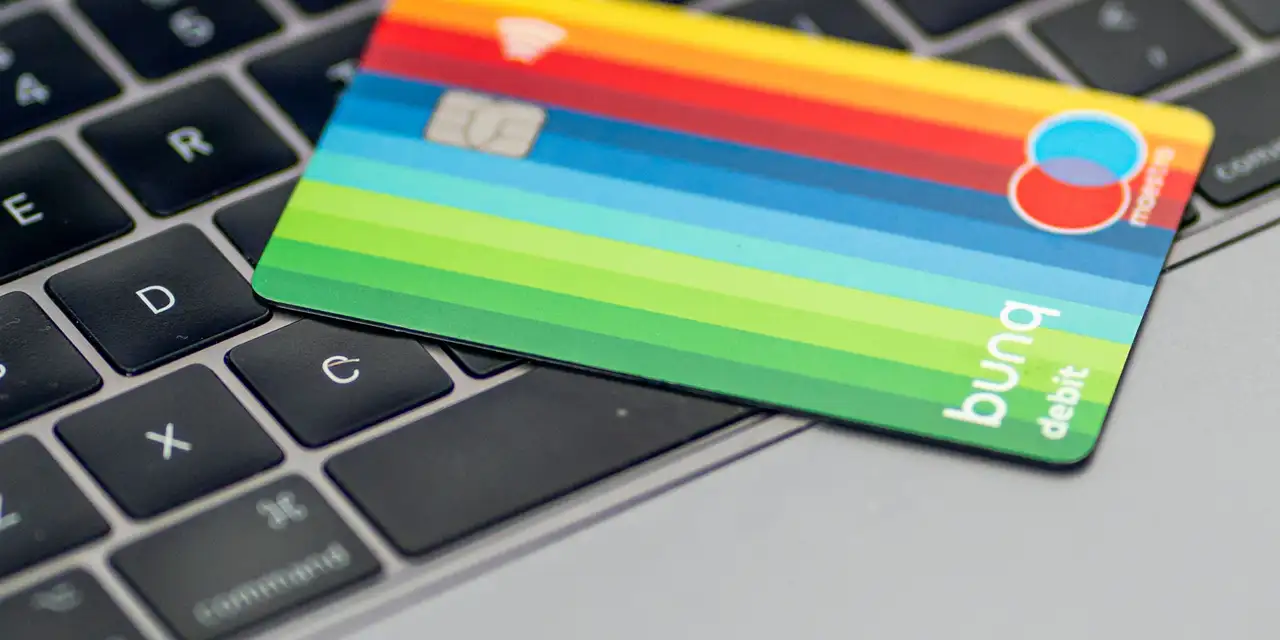 bunq: Business Bank Accounts Available
bunq offers a grand total of three options available to both individuals and companies. They have straightforward names that reinforce the concept bunq pushes through: managing company expenses should not take your time away from focusing on the core products and services your business offers, while banking can (and should) be easy. The four are: Easy Savings (not technically a full-fledged bank account), Easy Bank, Easy Money and Easy Green. Read more about the differences in bunq plans below.
Review: bunq for personal banking
Considering a personal bank account at bunq? Explore plans offered for individuals and all the applicable fees and get to know all the features available at bunq in our concise, yet detailed review.

bunq's baseline plan, Easy Bank, is an inexpensive option that gives a good impression of what bunq is. Significantly less powerful than the higher-tier plans, Easy Bank is still a solid product that has an impressive array of niche features while performing very well in day-to-day banking, with high acceptance rate on cards all over the world and world-class security tech.
Easy Money is a plan that helps you do business easily anywhere in Europe. With bookkeeping software integration, sorting your VAT automatically and an array of various cards with global acceptance included in subscription, bunq's Premium-tier plan is a great choice for hassle-free business banking.
Featured Business Bank: Anytime
Anytime acts as a modernized version of a traditional bank and aims to become a top pick for both professional or personal banking purposes. Great for freelancers who want their funds consolidated, but conveniently divided into business and personal funds.
Easy Green is bunq's top-of-the-line plan at a premium pricepoint. The main advantage over lower-tier Easy Money plan is an ability to effortlessly offset your CO2 emissions thanks to automatically planting a tree for every €100 spent from your bunq Business account. On top of this, Easy Green features invoice scanning using your phone's camera, extended warranty and purchase protection.
Business bank accounts offered by bunq can also be found in our selection of "one-to-one" comparisons between the best plans currently available on the market. Please find these detailed comparisons below:
Bank accounts for business banking by bunq vary quite significantly both in the range of features available, business types they target, and, of course, in price. Find a detailed breakdown of all bunq plans offered to businesses in our comparison table below.
bunq: Business Accounts Comparison Table

Easy Bank Business
Easy Money Business
Easy Green Business
Price, monthly
€ 6.99
€ 12.99
€ 22.99
Commitment
Cancel monthly
Cancel monthly
Cancel monthly
Sign-up Bonus
30 days free
Official Website
bunq.com
Accounts
IBANs
NL, DE, FR, ES, IE
NL, DE, FR, ES, IE
NL, DE, FR, ES, IE
Sub-accounts Included
1
25
25
Shared Access
Includes 1 additional shared account
Up to 10 people
Up to 10 people
Employee Accounts
✔️
✔️
✔️
Mobile Payments
Apple Pay
✔️
✔️
✔️
Google Pay
✔️
✔️
✔️
Samsung Pay
❌
❌
❌
Other Methods
-
-
-
Cards
Cards Available
Mastercard
Mastercard
Mastercard
Cards Included
1
3
3
Maestro/VPay
✔️
✔️
✔️
Debit Cards
✔️
✔️
✔️
Credit Cards
✔️
✔️
✔️
Virtual Cards
✔️
✔️
✔️
Extra Card
€ 3.49 p/m
€ 3.49 p/m
€ 3.49 p/m
Replacement Fee
€ 9.99
€ 9.99
€ 9.99
Free Replacements
-
1 per year
1 per year
Metal Card
❌
✔️
✔️
Wooden Cards
❌
❌
❌
Payment Methods
iDeal
✔️
✔️
✔️
SOFORT
✔️
✔️
✔️
Bancontact
✔️
✔️
✔️
Various Fees
SWIFT (Receive)
€ 5.00
€ 5.00
€ 5.00
Foreign Exchange Fee
2.00%
0.50%
0.50%
Currency Limit, fee-free
-
-
-
ATM Withdrawals
Daily Limit
€ 1,001
€ 1,000
€ 1,000
Free Withdrawals, p/m
-
6 times
6 times
After, p/withdrawal
€ 2.99
€ 2.99
€ 2.99
Withdrawal Fee Abroad
€ 2.99
€ 2.99
€ 2.99
Interest Rate
Current Accounts
❌
❌
❌
Savings Accounts
1.31%
1.31%
1.31%
Transaction & Deposit Limits
Deposit Limit
-
-
-
Deposit Protection
Up to €100'000
Monthly Spend Limit
-
-
-
Other Financial Products
Overdraft
❌
❌
❌
Stocks & ETFs
❌
✔️
✔️
Cryptocurrencies
❌
❌
❌
Cheques
❌
❌
❌
Cashback
❌
❌
❌
Insurance
❌
❌
❌
Lounges
❌
❌
❌
Expense Categorization
❌
✔️
✔️
Purchase Protection
❌
❌
Extended Warranty
Round-up Savings
❌
✔️
✔️
Cash Flow Control
❌
✔️
✔️
Deals & Discounts
❌
✔️
✔️
Other Benefits
Director access, Wise
Add-ons, Auto-VAT
Auto-CO2 offset
Learn More

Go to bunq.com

Invoice Scanning
Received an invoice you need to pay? Just open the bunq app, go to "Camera" and select "Pay Invoice". The OCR algorithms will then scan the invoice and pre-fill your bank transfer details (including the counterparty name, bank account details and the amounts). This feature alone can save you a significant amount of time if you find yourself frequently paying invoices and inputting the details manually.
Multiple Trade Names
Using multiple trade names for your business? The moment it is registered, you can choose to dedicate a separate account to each of the names, and your customers would see the correct name when they send you money (or the other way around). Very convenient for freelancers who use separate trade names for varying services they provide to different customers and can help build trust and alleviate confusion when invoicing customers.
Payment Insights
"Out-of-the-box" transaction categorisation (which you obviously can override yourself) provides your business with a convenient and real-time overview of how your funds are spent (split into categories, e.g. "Payroll", "Marketing", "Rent and Utilities", etc.), while the balance prediction graph (which, to be fair, does not work that great) lets you make more data-driven decisions when it comes to managing your business's expenses.
Auto-VAT and Auto-Export
Two similar features - bunq's Auto VAT makes managing your VAT a breeze by automatically setting aside the VAT amount (variable and adjustable) on both incoming and outgoing payments into a dedicated account, so the moment you need to submit a tax declaration, you already have the funds available. Auto Export is a feature that lets you set up an email address you want your bank statements to be forwarded to, and bunq will then automatically send these as soon as they become available. Very useful in case your business uses an external bookkeeper and makes accounting a breeze for you.
Dual PIN
Since you can have up to 25 unique bank accounts each with its own payment details with your bunq account, getting a great overview of your cash flows is easier than ever: you can dedicate a single sub-account solely to, say, recurring transactions to certain suppliers, or any other cost centre. This is no doubt convenient, but the feature gets even better when you add Dual Pin to the mix. bunq Dual PIN is easy to set up and use, and what it does is it makes it possible to set up two separate PINs for your bank card, each linking the card to a separate account. You could set it up so that you, for example, pay for your personal expenses using your ordinary PIN (or contactless), but if you enter an alternative PIN when prompted, the money would then be deduced from your business bank account. Extremely convenient for budgeting and keeping track of your expenses.
Bookkeeping Integrations & Zapier
Can not code, yet want to enjoy the "smart" banking experience? It is now easily achievable, thanks to bunq's integration with Zapier. Adding a row to a Google Sheets table whenever a transaction is executed? Easily set up in less than 10 minutes! Sending a Slack message when receiving a payment? Say no more! On top of that, bunq supports quite a few pieces of bookkeeping software with more being added every couple of months.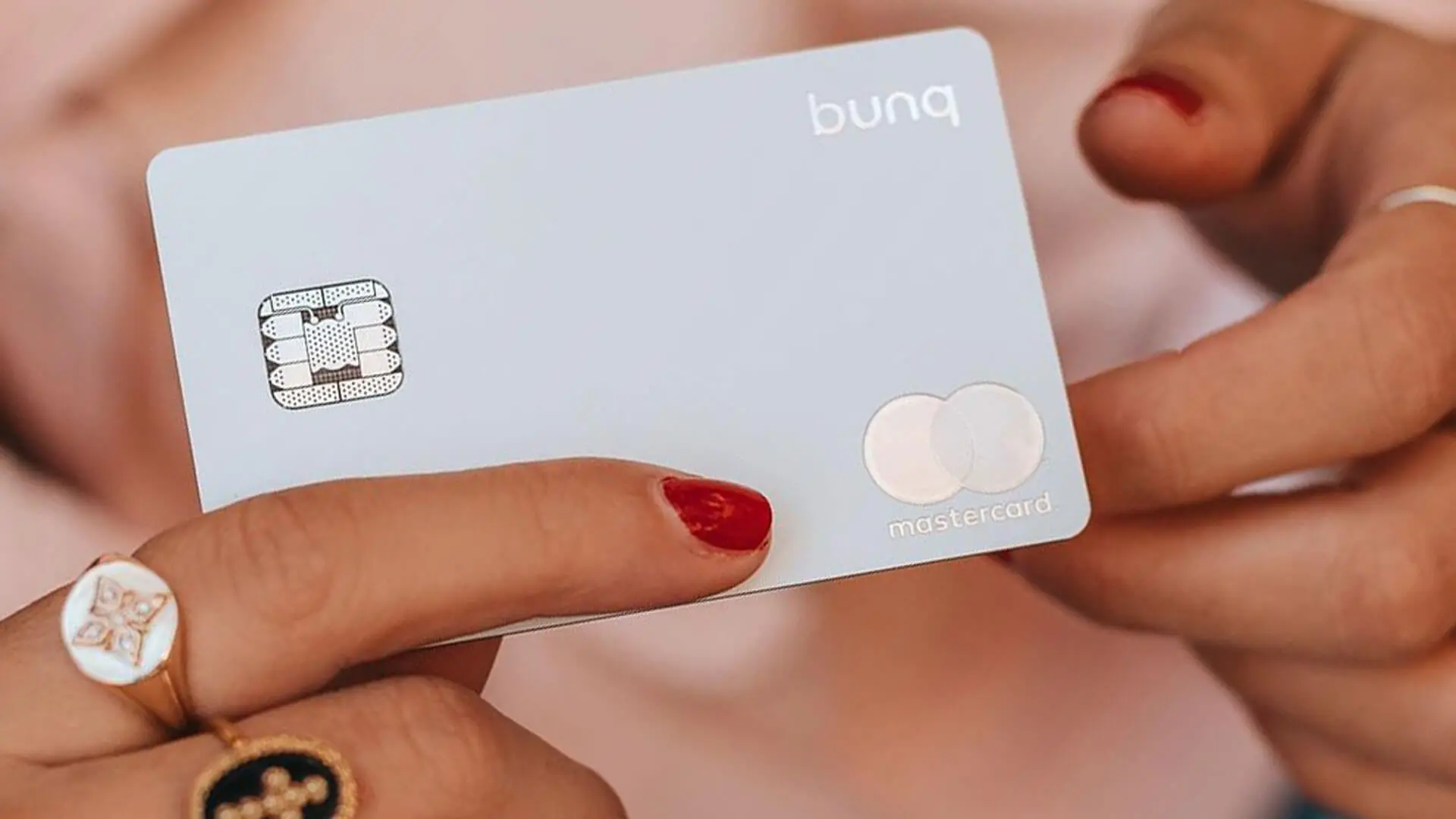 Cash flow control: In case you opt for either Easy Money or Easy Green plans, it is very easy to set up a few sub-accounts for splitting up your expenses into very straightforward standalone bank accounts. Thanks to automatic transaction categorisation, an ability to split up funds related to different trade names while still having them all in one account within a single app and features like Payment Splitter, you will never wonder where you spent that much money last month.

Local IBAN and bank details: bunq users from Germany, The Netherlands, Spain and France get to enjoy having local IBANs (for example, starting with "NL97 ..." for The Netherlands) for their sub-accounts with bunq, which is not the case for most neobanks on the market (N26 users get DE IBAN no matter where they are, same as Revolut's Lithuanian bank accounts).

Unique features: The list provided above is definitely not exhaustive, as listing all of bunq's features would simply take too much space! From ZeroFX (interbank exchange rate when paying in currency without any additional fees) and MassInterest (getting interest on your current account) to being able to add your loyalty cards directly in the bunq app, it seems like there is nothing this app can not do.

Freedom of Choice: bunq advocates for ethical investment practices and aims to empower its users to follow suit. You can choose where you want your deposits to be invested (you are also free to disable getting interest) right in the bunq app at any time.

Automate the boring parts: Thanks to an array of features, including Payment Sorter (choose how to distribute your incoming payments the moment they arrive, automatically), Auto-Save, combined with an extremely powerful OpenAPI, an ability to connect to other apps using Zapier and a wide range of bookkeeping software "plug-and-bank" integrations, you can make your banking experience truly "smart".
Too many things: bunq offers an exceptional collection of features, but the downside of this approach (given bunq's fairly limited employee headcount) is that certain features introduced over a year ago sometimes get zero maintenance and their quality and reliability eventually decreases up until bunq decides to revamp and update that functionality.

Customer support: bunq provides support in multiple ways - via email, on bunq's Together forum (that also doubles as a knowledge base) and in the app. The in-app implementation is quite innovative: you can send text messages, voice memos, screen recording and screenshots to the support team, but the quality and speed of support responses could definitely be improved.

Limited cash options: for example, ATM withdrawals, despite being free the first four times each month, are capped at a measly €500 a day. Depositing cash into your bunq account is also almost impossible without using third-party services in areas not serviced by Barzahlen. And, specifically for our readers in France, we can confirm: bunq does not support cheque payments.

Unintuitive app UI: in an effort to make things as easy as possible without overwhelming the user, bunq's product team sometimes makes quite mind-boggling calls, resulting in some functionality being hidden so deep down in the app, you might not even know it is actually there. You do get used to the core features quite fast though, and you might even find the way they are arranged convenient after some time, but there is a steep learning curve before that.

Excessive marketing communications: in no way is this downside exclusive to bunq, and you can of course choose to opt out of getting that information, but it still leaves a bit of a sour aftertaste.

Review: Bitpanda
Austria's number one fintech company Bitpanda is an "all-in-one" investment platform offering over 50 cryptocurrencies, multiple crypto indices, stocks, ETFs and precious metals. Read our review and get €5 in BEST for free!
bunq: Frequently Asked Questions
Does bunq offer real bank accounts suitable for operating a business?
bunq B.V. holds a full banking license provided by one of Europe's most reliable and respected banking authorities, the Dutch National Bank. Essentially, this means that all the deposits at bunq (capped at €100'000 per customer) are fully insured via DNB's Deposit Guarantee Scheme and backed by the government of The Netherlands. On top of this, this license ensures that the challenger bank is subject to a high level of scrutiny and intense audits by regulators. So yes, bunq is a real bank.
Do my bank accounts get an IBAN from The Netherlands with bunq?
Despite being a Dutch bank, users residing in Germany, France and Spain would get local IBANs, which is a unique feature as far as mobile-first banks go. Users from other countries get a Dutch IBAN (which begins with "NL97 ..."). You can also get bank accounts in multiple countries at bunq, but that (admittedly, quite niche) option incurs an additional cost. In case you are wondering, IBAN is an abbreviation that stands for "International Bank Account Number".
Are there hidden fees at bunq?
Most of the "day-to-day" banking features cost nothing - these are already included in your bunq plan. In essence, this means a complete lack of fees (on Easy Money or Easy Green plans) for things like having up to 3 "physical" and 5 virtual bank cards active, bank transfers within the SEPA zone, having up to 25 sub-accounts or withdrawing cash from an ATM up to 4 times a month. However, there are still some exceptions: for example, executing SWIFT transactions, holding huge (more than €100'000) amounts on your accounts or ordering a replacement for your lost card (more than once a year, as the first one is also free) are examples of that. Make sure to familiarize yourself with the pricing document available on bunq's website so as not to have any unpleasant surprises when the monthly invoice comes.
How does bunq Pack work with businesses?
bunq Pack allows you to have up to four Easy Money personal (or 3 personal and 1 business) subscriptions for a reduced price of €24,99 (€6,24 per account). Which takes "The more, the merrier" to next level, saving you a total of €14 per month if you are a part of a full bunq Pack.
Multiply Your Wealth
Doesn't matter if you're just saving up for that summer vacation or if you're planning your retirement, the best time to start investing is now. Explore our curated list of the best investment platforms and apps available today at Fintech Compass. Make your money work so you don't have to.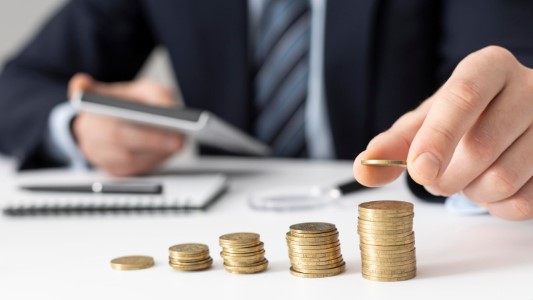 Does bunq offer a credit card?
The answer is not straightforward. While bunq does offer a Mastercard Credit card, there is no option to open a credit line or enable overdraft. Why? It is still convenient as certain vendors (most commonly, car rental companies, hotels and any other business that "freezes" an amount on your card prior to the actual payment) often require you to pay with a credit card specifically, and you would still have that option available to you. As an added bonus, credit cards from Mastercard have the best worldwide acceptance.
What about the bunq Travel Card?
bunq Travel Card is a deprecated product that used to be a standalone subscription. The card itself is now called simply "bunq Credit Card". This should not discourage you as all he benefits of the Travel Card (like ZeroFX, the "no exchange rate, save up to 3% on currency payments" offering) are readily available to all bunq users. The card itself also looks exactly the same.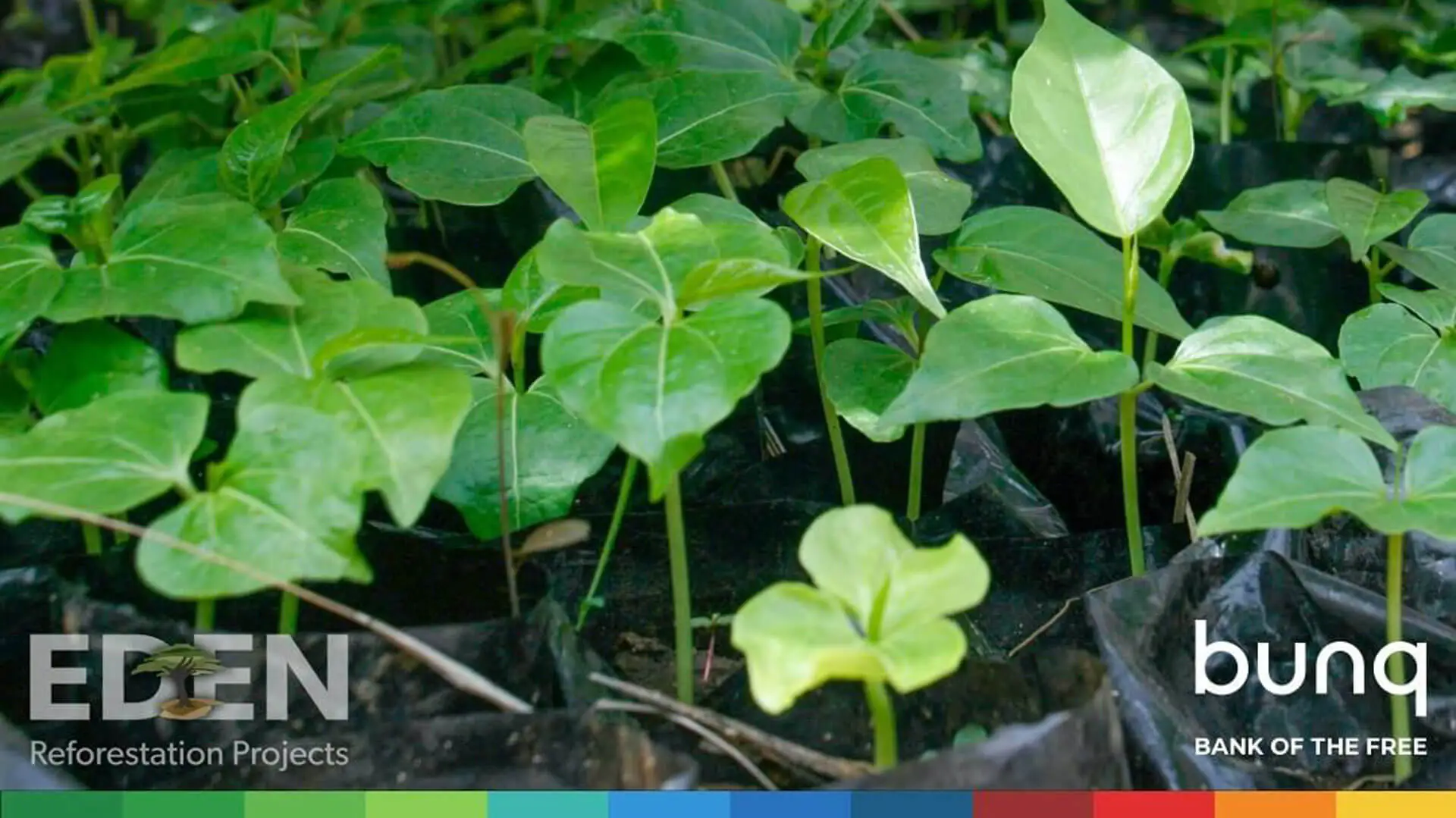 How do I contact bunq?
bunq support can be contacted 24/7 via the in-app chat, in any of the six languages bunq supports. As an alternative, it is possible to email bunq with any questions you might have at support@bunq.com. bunq's address is 1043 BS Amsterdam, Naritaweg 131-133, The Netherlands. You can report bunq scam and fraud by bunq users on bunq's website.
Companies based in which countries can use bunq?
Companies based in these countries can use bunq: Austria, Belgium, France, Germany, Ireland, Italy, The Netherlands, Portugal and Spain. The list is constantly expanding just like bunq does so make sure to check bunq's official website or app listing.
Does the feature set of bunq lack something you are explicitly looking for? Perhaps, you are looking for a company account in a different price range? Or do you want to find a more powerful solution for your needs? Below, we will provide you with three bunq alternatives other users found relevant.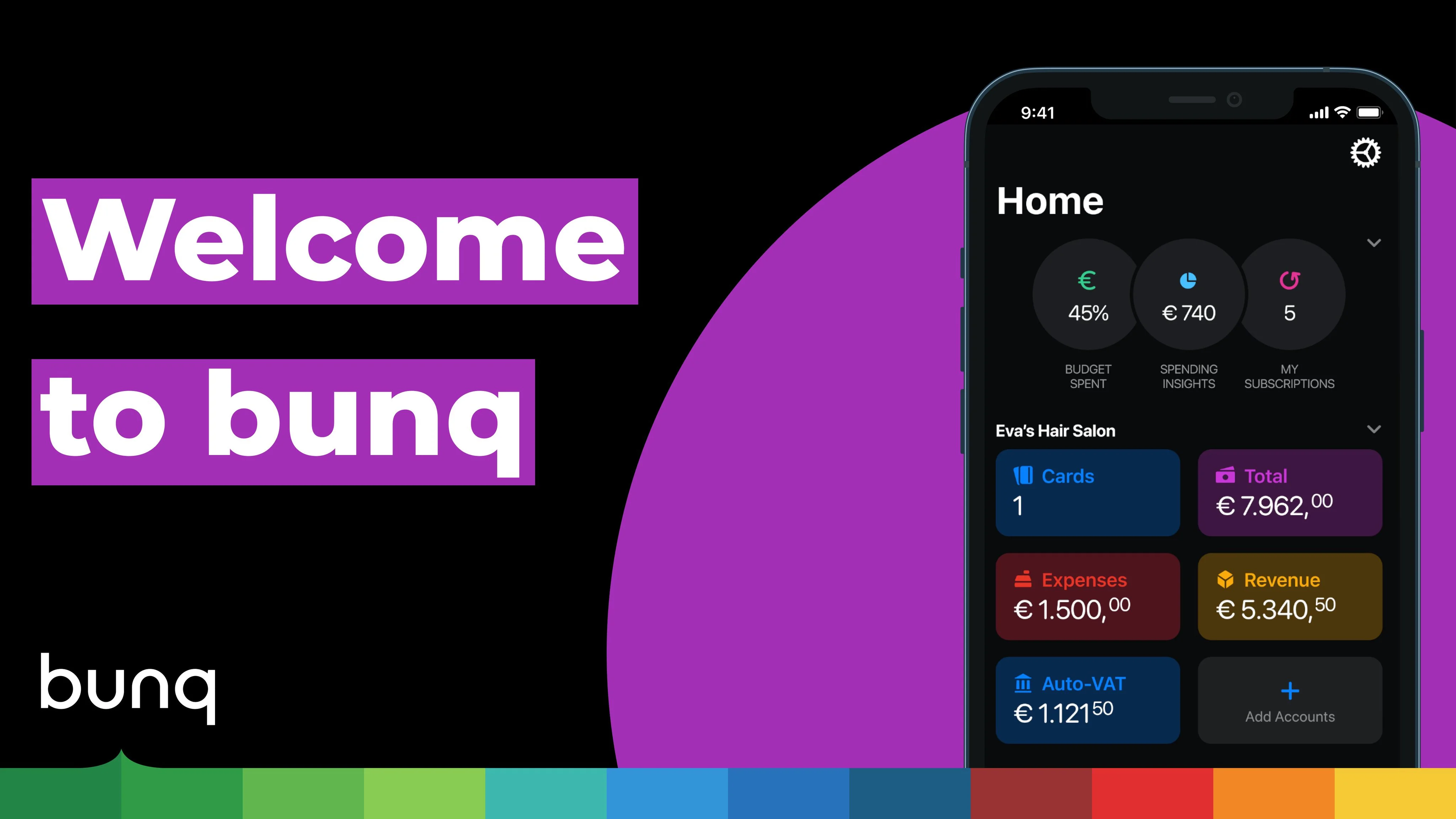 Verdict: Is bunq worth the price tag?
bunq surely does not lack the features nor does it struggle to justify the price tag (which is more or less similar to what's offered by bunq's competitors). An abundance of "smart banking" features, all the "bread and butter" day-to-day functionality you would expect from your bank in a digital age and a commitment to ethical investment practices along with a focus on sustainability - what more could a business user want? However, the downsides (namely, overall cash-"unfriendliness" and a lack of a proper desktop app) might be off-putting enough to become deal-breakers for some business owners, especially when combined with some of the less significant drawbacks (e.g. confusing app UI or lack of Garmin Pay or Fitbit Pay). The company is also constantly innovating, and you can feel that nothing is truly "set in stone" at bunq in terms of UX/UI with the neobank always trying to improve the end users' experience, which can be a bit overwhelming at times.
However, greenwashing (bunq does like mentioning tree planting and going CO2-neutral... a lot) and the "social" banking experiments aside, bunq remains a really solid and high-tech neobank with a full-fledged banking license provided by a trustworthy regulatory authority in one of the most reliable countries in terms of the justice system and the strength of the economy. Often dismissed by businesses due to its flashy and "young" presentation and visual style, in its core, bunq is a very powerful bank that gets better the more you "settle in" and acquaint yourself with a wide range of possibilities to choose from.
---
Read More