Best Metal Cards from Banks in Europe
Reviewing the most stylish bank cards European neobanks have to offer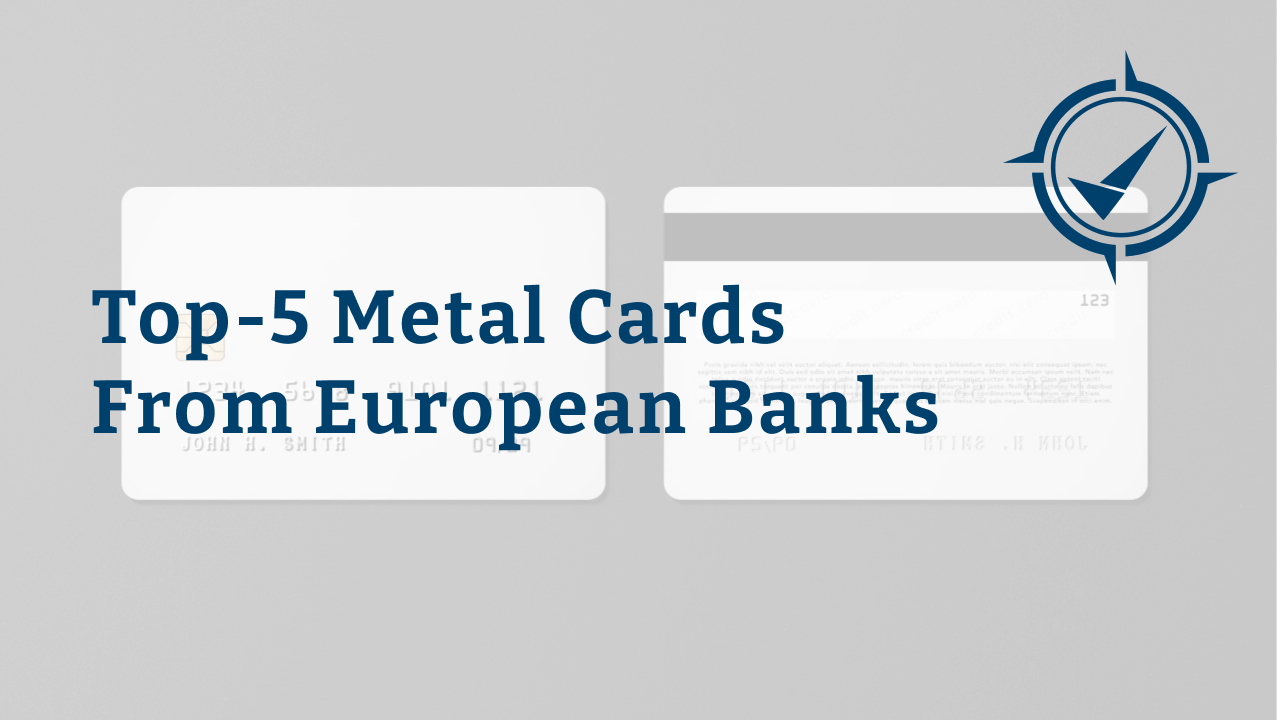 Metal Bank Cards: Fad or Trend?
Metal cards recently exploded in popularity. "Black cards", VIP bank cards, "Metal Premium Card" and many more variations are all different ways to refer to the same thing - a bank card made (at least partially) from metal alloys. Boasting improved durability, less plastic waste and a "premium" look and feel, they quickly appeared in product portfolios of various digital and mobile-first banks in Europe. With such an astounding amount of options to choose from, it's easy to get lost. That's why our team of experts investigated - we got "hands-on" with a dozen of metal bank cards and selected five we considered the best to present in this article.
But, before we jump into our list of the most exciting and powerful metal bank cards on the market today, we'll provide crucial information everyone looking for one should know. It is important to consider this information as it will allow you to make a more informed choice. Additionally, we urge you to learn more about the hidden benefits Mastercard offers to anyone using their credit and debit cards,
Metal Cards: F.A.Q.
Is metal a better material for a bank card than plastic?
Obviously, there is no definitive answer to this question. Some people may prefer metal cards because they are more durable than plastic cards, have a bit more weight to them and can generally take a beating, unlike their cheaper counterparts. However, some people still prefer plastic cards, just because they are lighter and more convenient to carry. Ultimately, it is up to the individual and there is no "right" answer.
Are metal cards better than plastic for the environment?
Metal cards are not necessarily better than plastic cards in terms of their environmental impact. It depends on how the bank metal cards are produced and what they are made of. If they are made of recycled materials, then they may be better for the environment than plastic cards. Side note: we have an article for you if you have an interest in sustainable banking practices and ethical investments.
Can you put a sticker on a metal card?
We really don't see why you'd do that, however, there is nothing that should be stopping you from doing it - the NFC chip will still continue working like normal and the metal itself is very durable and can definitely handle a sticker.
Can you get custom engraving on a metal card?
Yes, you can. The only thing to keep in mind is that you need to maintain the NFC chip's integrity so it can continue performing contactless payments.
Can you use a metal bank card in ATMs?
Absolutely - you do not need a special ATM for that. The reason is that metal cards have the same shape (albeit slightly heavier and a bit more thick) as the traditional plastic ones, thus, the ATM would not be able to differentiate between the two anyway.
Now, without further ado, let's jump into it and review each of the winners one-by-one. We hope that making a choice does not seem as daunting of a task after getting familiar with this list.
The Best Metal Bank Cards From European Banks
Curve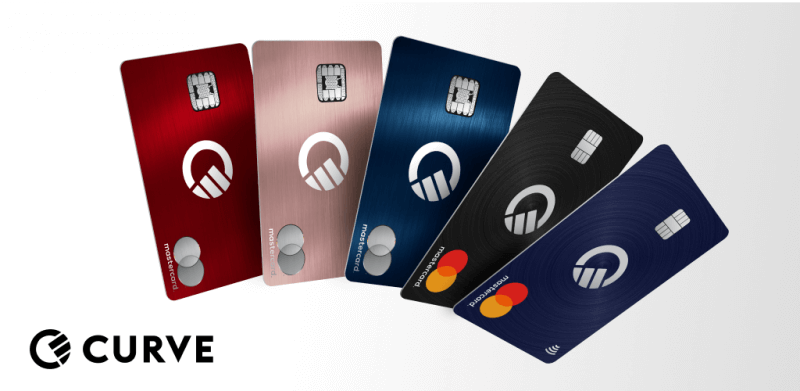 Curve
Promising assistance in "taking control of your money with one card and one app" to its users, Curve quickly gained popularity in the UK. Unique product that consolidates all your cards and accounts in one place, while categorizing payments and providing cashback.

2'000'000+

London, UK

Expand key information

General Information
Deposit Protection

N/A

Customer Support

Chat, E-mail

Currencies

GBP or EUR
Bank Accounts
Individuals

Free plan available

Businesses

Joint
Convenience & User-friendliness

Customer Support

Features Available

Value for Money

Overall Rating
Curve Metal Card, which the company proudly dubs "The Metal Card That Pays You Back" is a Mastercard debit card with worldwide acceptance. This card comes with a "Curve Metal" subscription that has a monthly fee of €14,99, while the card itself is free without any delivery costs. The benefits of it are quite extensive, the biggest one being 1% cashback at 6 retailers of choice. Curve Metal users also get worldwide travel insurance for free and enjoy discounts when making purchases at select partners (the list is quite extensive, so you can definitely find something you already use).
You also get airport lounge access, cell phone insurance and a unique ability to "Go back in time". The way it works is you can always go back and change the card you used for a specific transaction. Forgot to get your airline miles because you used a wrong card? No problem. Accidentally bought your partner a gift from your shared bank account? Not an issue anymore. Truly unique and surprisingly useful feature.
Curve is an innovative "All Your Bank Cards in One" product that allows you to get cashback, rewards and an easy way to get a convenient overview of your spending, without switching your bank or paying additional fees.
Revolut Metal Card
Revolut
Europe's biggest neobank, Revolut is a pioneer of mobile-first banking. Offering a wide range of financial services and banking products, including (but not limited to!) trading stocks and crypto, Revolut is a safe option regardless of customer's country of residence.

28'000'000+

London, UK

Expand key information

General Information
Deposit Protection

Up to £85'000

Customer Support

Chat, email

Currencies

30+ currencies
Bank Accounts
Individuals

Free plan available

Businesses

Free plan available

Joint
Convenience & User-friendliness

Customer Support

Features Available

Value for Money

Overall Rating
Revolut Metal is the ultimate plan for digital nomads, citizens of the world and anyone looking for a supercharged bank account. This plan comes with worldwide travel insurance, airport lounge access, refund protection, theft and accident coverage. The cards themselves are also of high quality and come in a variety of colors.
You can get a flashy metal card both as an individual (Revolut Metal is a €13,99 per month subscription), and as a bonus for opening a Revolut business account. Revolut Grow (mid-tier plan for companies and freelancers) allows you to get 1 metal card and costs €25 per month, while Revolut Scale, a premium-tier plan best suited for small to medium sized companies, gets you 2 metal bank cards free of charge, however, it does cost €100 a month.
Overall, Revolut Metal bank card is a great choice for those looking for a premium travel bank card. It offers a number of features and benefits that make it a great option for those who frequently travel abroad. It also comes with a number of perks, such as free airport lounge access and a concierge service. However, it is important to note that the card (technically, the Revolut Metal subscription) does come with a monthly fee and a 1-year commitment contractually, so it is important to weigh up whether the benefits it offers are worth the cost for you personally.
Vivid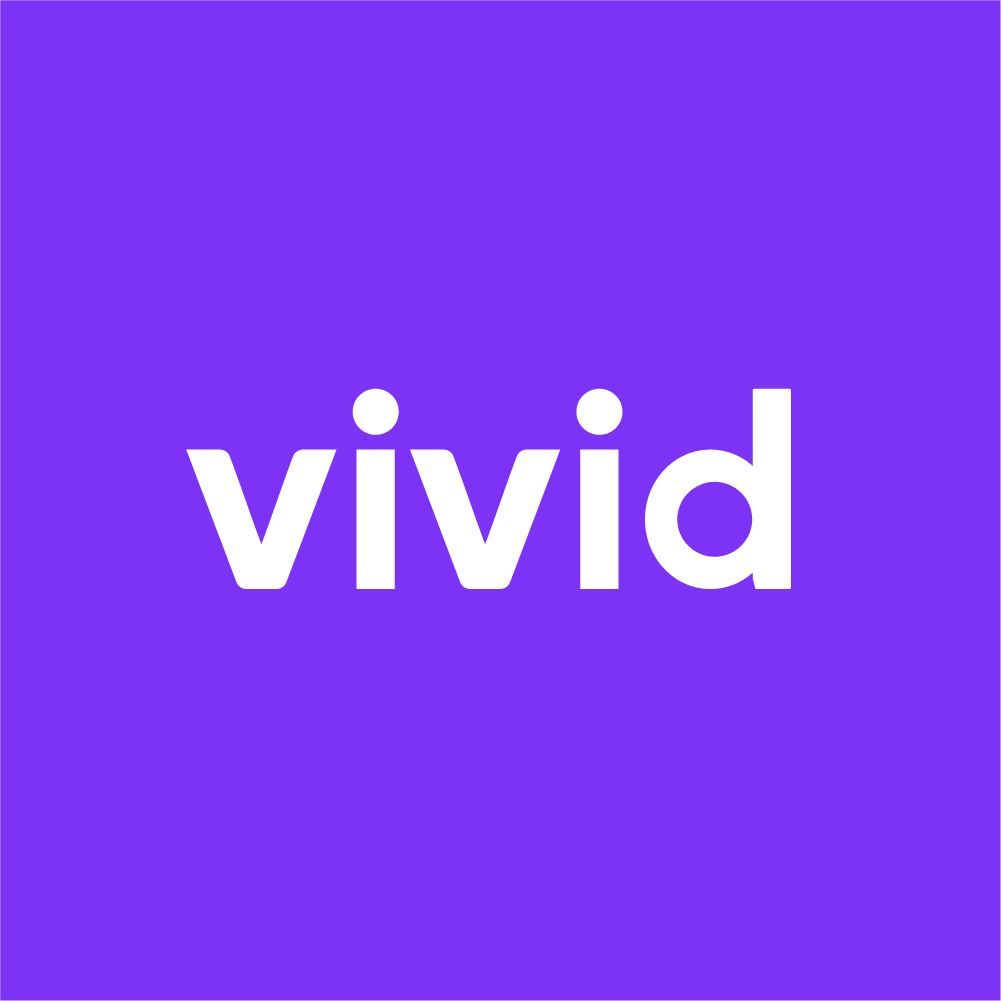 Vivid
Vivid is an up-and-coming financial "one-stop-shop" app: payments and transfers, an interest on your current account, 3000+ ETFs & stocks from companies all over the world along with 50+ cryptocurrencies on top of and an ability to store funds in over 40 currencies.

500'000+

Berlin, Germany

Expand key information

Cashback rewards
Metal crypto card
Multiple sub-accounts
Shared accounts
Automatic savings
Bank Card
Stocks & ETFs
Cryptocurrencies
Precious Metals
Convenience & User-friendliness

Customer Support

Features Available

Trading Fees

Asset Selection

Overall Rating
Vivid Metal - a "Card to impress", as Vivid themselves label it. With an exclusive stainless steel design, express delivery (you will get your Vivid Metal bank card within 3 business days) and 6 charming card colors to choose from, this metal card is definitely worth it for someone who wants to "wow" people when paying. On top of this, Vivid provides users with more than 65 unique card stickers to choose from, so you can be confident your card will not bore you any time soon.
This card combines the benefits of a debit card, while also allowing you to make purchases as if it was a credit card. This means that you can get cashback on your purchases, which will definitely add up and save you a lot of money in the long run. Vivid Metal also offers a rewards program that allows you to earn points for every purchase you make with it. Next to it, it obviously supports all cutting-edge security features for safe online payments and an ability to create virtual cards whenever you need them. A nice touch is that the card details are not written on the card, but rather live in your Vivid app, so your funds are safe even if you lose it.
bunq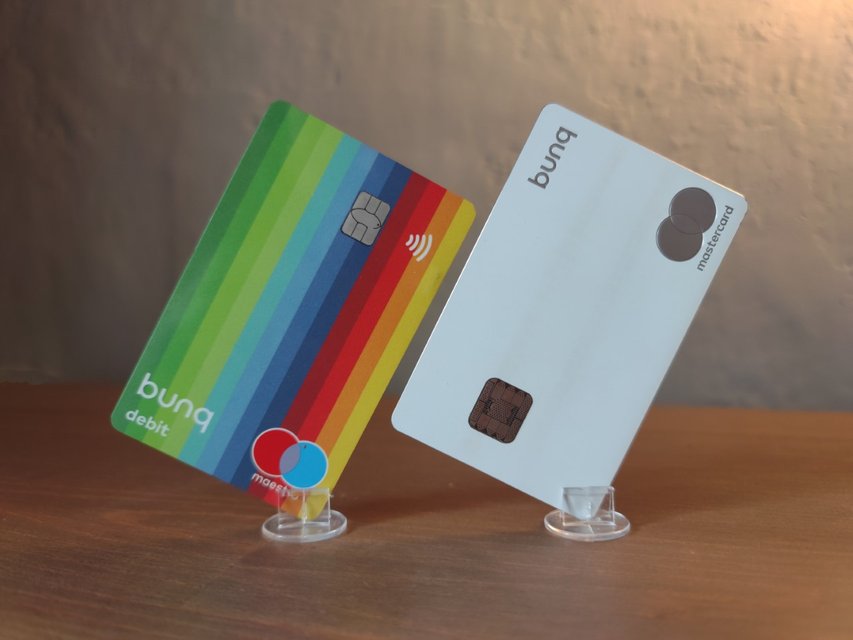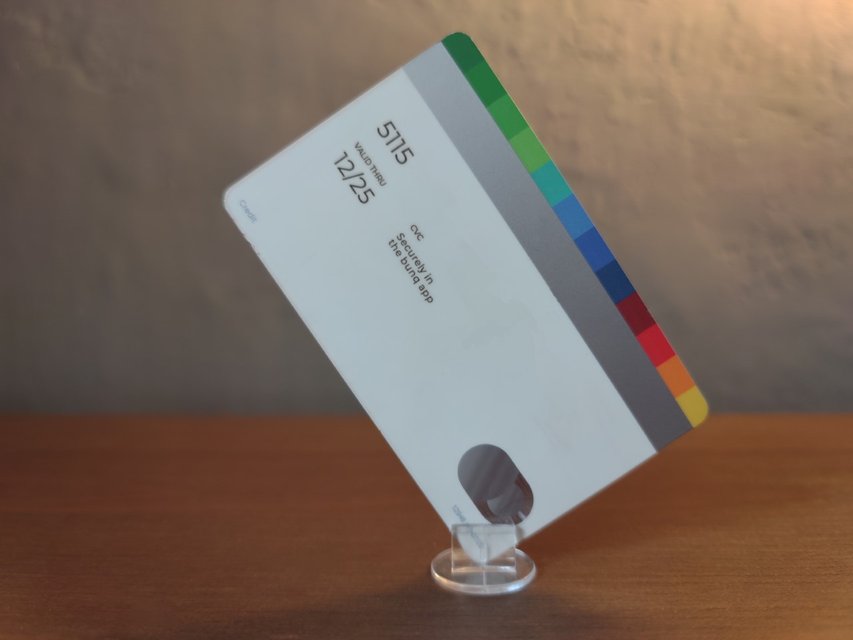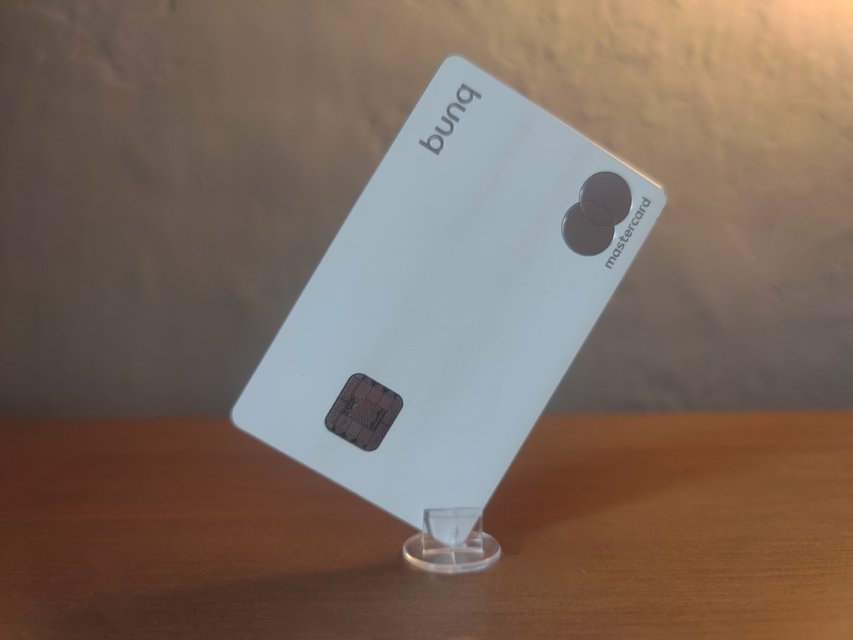 bunq
Dutch online bank that gives you the freedom to bank like a local all over Europe. The bank's mobile apps are packed with exciting and unique features, and the fully fledged banking license bunq has ensures your money are 100% safe at all times.

5'400'000+

Amsterdam, NL

Expand key information

General Information
Deposit Protection

Up to €100'000

Customer Support

Chat, email

Currencies

EUR, USD, GBP + 12
Bank Accounts
Individuals

Free plan available

Businesses

Starting at €6.99

Joint
Convenience & User-friendliness

Customer Support

Features Available

Value for Money

Overall Rating
Beautifully crafted, stainless steel bunq Metal Card is taking "sustainability" to next level. The beauty of this offering is the fact that you can get this card for free when you sign up for an annual Easy Green subscription. As an additional bonus, bunq plants a tree for every €100 spent, allowing you to fully offset your CO2 emissions in less than two years! And of course, we don't even need to mention that bunq Metal Mastercard provides Purchase Protection & Extended Warranty on every purchase you make. Lost your new cell phone you bought using bunq Metal card? Claim an insurance report and Mastercard will reimburse the costs, saving the day.
bunq Easy Green subscription comes with an impressive set of unique features - which is why the features this Dutch neobank offers made it to our selection of amazing banking app features twice. As if saving the environment by offsetting your emissions is not enough, you also get freedom of choice when it comes to bank investing your money. This way, you can be sure your money only goes to support "green" and ethical businesses and sustainable projects. Next to it, all of bunq's unique features are also there, including an ability to create up to 25 sub-accounts each with its own IBAN, enjoy automatic payment categorization, budgeting features and your personalized payment request link.
Bank Accounts for Individuals
Read our detailed reviews of personal bank accounts available at some of the world's most popular online banks, compare the plans they offer, explore their pricing and discover all the hidden fees.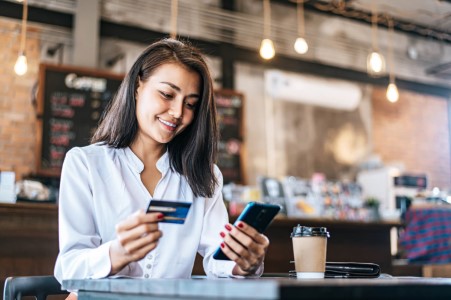 N26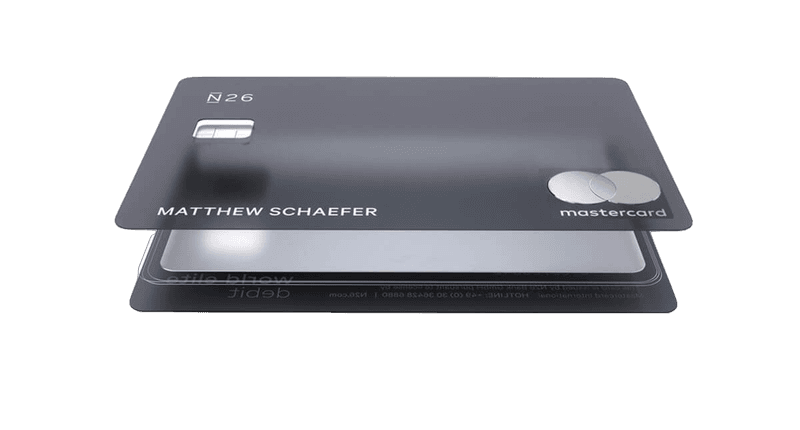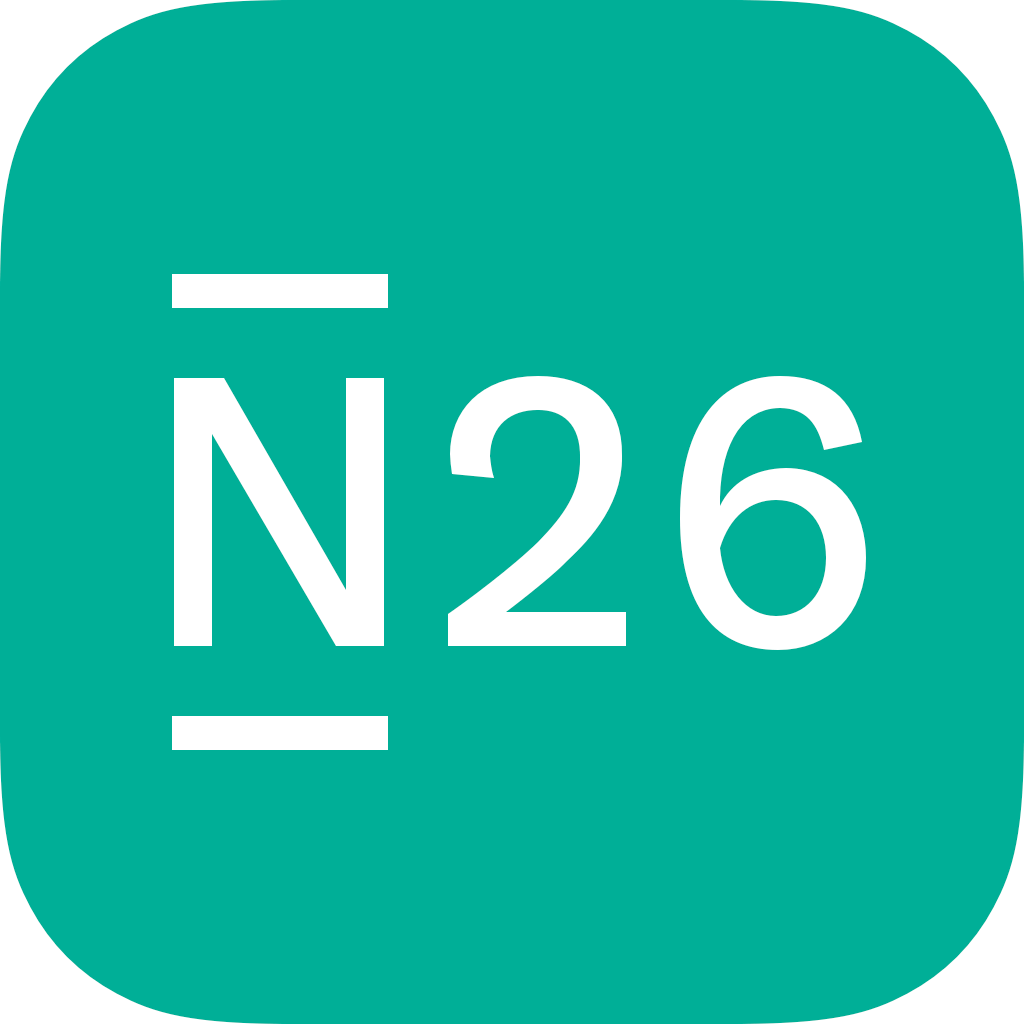 N26
N26 is The Mobile Bank, extremely secure and operating with a full German banking license. Stylish cards, real-time payments, automatic expense categorization, all in a neat and very convenient mobile app.

8'000'000+

Berlin, DE

Expand key information

General Information
Deposit Protection

Up to €100'000

Customer Support

Chat, email

Currencies

EUR
Bank Accounts
Individuals

Free plan available

Businesses

Free plan available

Joint
Convenience & User-friendliness

Customer Support

Features Available

Value for Money

Overall Rating
N26 Metal card is a great addition to this list of the best metal cards in Europe. The card is made of high-quality materials, comes in three distinct shades and has a sleek design, while the N26 Metal subscription empowers you to fully enjoy banking by giving you a premium experience. The plan costs €16,90 a month and is jam-packed with useful features. These include fee-free ATM withdrawals worldwide, mobile phone insurance of up to €1'000 and rewards with select partners, based on your location.
While N26 did not make it into our list of the best digital banks of 2023, it still is a very solid offering you should consider if you're in the market for a VIP bank subscription.
Ready to choose the best metal card?
We can't deny: metal bank cards are about as stylish as it gets! The best thing about them is that they are truly unique and offer an easy way to differentiate yourself from others (or even other businesses!).
If you're still struggling with making a final choice, our suggestion is to focus on the financial institutions behind them rather than the subtle differences in alloys used and colors available. While there are quite a few different metal bank cards out there, the best one for you depends on what you're looking for. So the extent to which online reviews of bank accounts can help you is quite limited - nobody but you knows what your individual wants & needs when it comes to banking are! Ultimately, whichever metal card you choose, make sure it's one that will help you meet your financial goals.
Now that you've (hopefully!) decided on your metal debit card (or a credit one if you want!) of choice, we invite you to take a look at our other articles on innovations in fintech industry, latest in digital banking and the world of investments.
Featured Content