Review: Vivid Money
Mobile banking, investments & more by Vivid reviewed by experts
Vivid is a financial product that combines the worlds of banking and investing in one simple mobile app. It was born out of frustration with a system where a customer only really ever provides value for banks, getting nothing but fees and commissions in return. Vivid (frequently called either "Vivid Money", "Vivid App" or "Vivid Bank") offers users a refreshing and high-tech digital banking experience. Built on Solarisbank's banking platform, fintech Vivid is a true financial "one-stop-shop" app: payments and transfers, an interest on your current account, 3000+ ETFs & stocks from companies all over the world along with over 300 cryptocurrencies on top of an ability to store funds in over 100 currencies.
Vivid claims it's here to make managing your finances easy and give you confidence that your funds are constantly at work, on top of enjoying cashback on all purchases and savings plans. Does this claim reflect reality or are these just loud marketing slogans? Read our Vivid bank review below and find out if it's the right choice for you.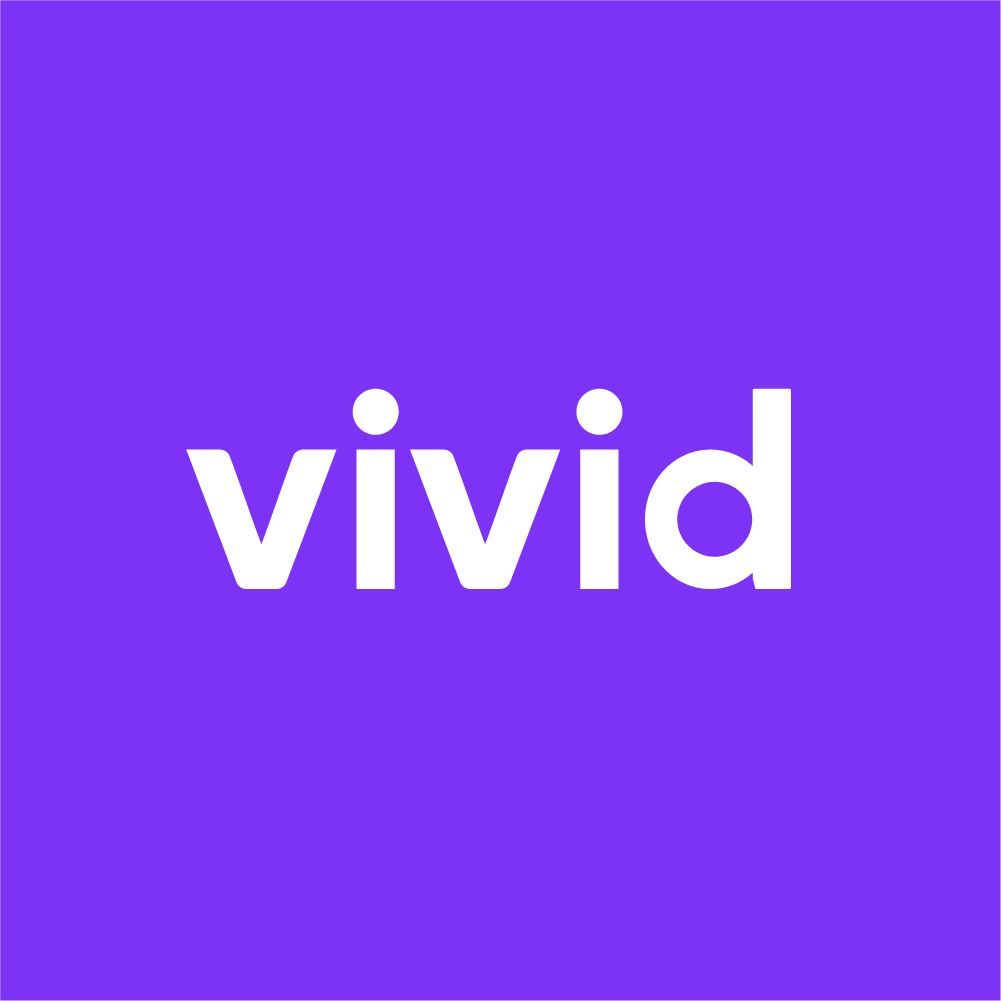 Vivid: Key Facts
| | |
| --- | --- |
| Founded | 2019 |
| Headquarters | Berlin, Germany |
| Users | > 500'000 |
| Official website | vivid.money |
| Crypto | 50+ coins |
| Stocks | Stocks & ETFs |
| Metals | 4 metals |
| Card | Visa Metal |
Vivid's unique selling point is quite straightforward. This German neobank targets an audience curious about the world of investments that considers starting a crypto investment journey in a safe and simple environment. There is an additional angle of "help users grow their money" at play - a few features revolve around "no action required" small-scale incremental investment. These include rounding up your everyday purchases to the next Euro and investing this spare change with every card payment. Vivid's customer research identified these frequent tiny injections in your savings account as the most effective way to form a habit of consistently contributing to your financial health. Another way Vivid attempts to make your first steps on the investment journey is by introducing fractional stocks, meaning you can start with as much as €1 and scale up your portfolio once you feel comfortable enough.
Vivid: Overview of Products
Vivid Standard is a free plan that serves as a convenient way to "dip your toes" and experience the platform without committing too much time that requires no money at all. You still get most of the benefits of the paid flagship "Prime" plan, except you do not get rewarded for making payments with your Vivid card, pay a higher fee when trading assets and only have €200 free ATM withdrawal limit (compared to €1000 for Prime plan users). This is a practice we fully support - providing the user with a complete product for free, giving them a chance to get "hands-on" with the app and various benefits it offers before having to commit to a paid subscription.
Important Note: This account type is only free for active Vivid users. Inactive accounts incur a management fee of €3,90 per month. "Active" customers are defined as users who meet at least one of the following conditions:
At least one card transaction performed during the month
Account balance of over €1'000
So the conclusion is simple - if you use your account at least from time to time, the subscription stays free. If you don't.. Well, in that case we suggest you close your Vivid account using a dedicated feature in the app (or on the desktop version).
Multiply Your Wealth
Doesn't matter if you're just saving up for that summer vacation or if you're planning your retirement, the best time to start investing is now. Explore our curated list of the best investment platforms and apps available today at Fintech Compass. Make your money work so you don't have to.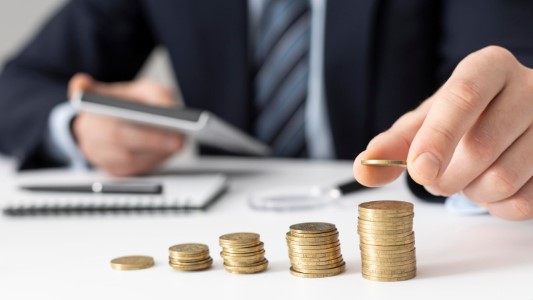 Spending in over 150 currencies while saving money on fees, free checking accounts with separate IBANs under a single login, getting stocks as your cashback for card payments abroad and great investment options - Vivid Prime is a very strong entrant to the "bank accounts with cards combined with crypto" category. Definitely worth it for someone who is looking to pick up investing as a newly formed habit. Vivid Saving Plans are a complement to that offering, allowing you to invest in your favourite "collections", ranging from the giants of game industry or NFT or Metaverse-focused businesses to thematic packs like a bundle of the top German stocks.
Limited Time Offer! All new users signing up via Vivid links on Fintech Compass get 30 days of Vivid Prime trial absolutely for free with "no strings attached". A great opportunity to try it out and see if that's the right product for you, so make sure to download the app while the trial is still available.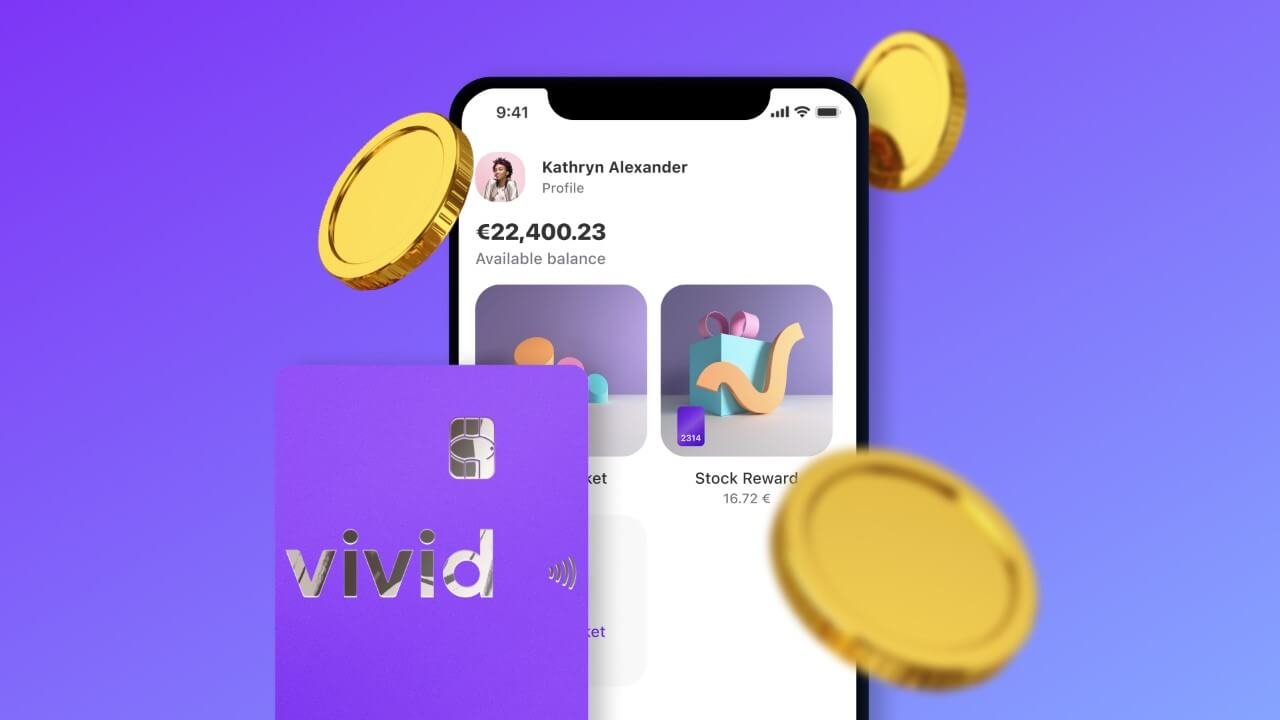 Vivid: Plan Comparison Table
Plan comparison table can be found below. Interested? Visit Vivid's official website and make your own decision after getting hands-on experience with the product.
Plan
Vivid Standard
Vivid Prime
Price, p/m
Free*
€9,90
IBANs Available
DE, ES or IT
Sub-accounts Included (Free)
3 IBANs
15 IBANs
Currencies
40
107+
Bank Cards
Maestro
Debit
(first card free)
Credit
Virtual
(free)
Metal
(first card free)
Card type
Plastic only
Metal or personalized
Google Pay
Apple Pay
Free Card Issuing
Every 12 months
Every 6 months
Additional Card Issue
€9,90
Cashback
Max amount
Up to €20
Up to €100
Cashback
0,2%
1%
Crypto Trading
Free trades
1 per month
Unlimited trades
Trade Fee
1,49% (min €0,79)
-
ATM Withdrawal (Globally)
Free withdrawals, p/m
€200
€1000
Withdrawal fee
3% after limit
Limits
Deposit
No limits
FX Exchange
No limits
Other information
Protection
Deposit guarantee up to €100,000 on all accounts
Support
24/7 live chat
Secure contactless payments
Vivid: Pros & Cons
Advantages
Vivid offers an interesting product that potentially covers all of your day-to-day banking needs. Reviewing Vivid is not an easy task simply because, as with any financial products or services, the sheer diversity and variety of users' needs and the range of use cases make it exceptionally tough to offer general advice. For instance, the banking needs of students differ a lot from what's expected from a bank account by a self-employed entrepreneur. However, there are still objective advantages to using Vivid, and we will focus on these below.
Fractional Investments: No need to commit to purchasing a full share, you can invest starting at just €1

Multiple Sub-accounts: With up to 15 sub-accounts available each with unique IBAN, budgeting is a breeze

Cashback Available: A rare feature for European banks, Vivid has cashback available for both free and paid plans

Choose your IBAN: German, Spanish and Italian SEPA-eligible IBANs available for your bank account
Downsides
Just like with upsides, the downfalls of Vivid are also tricky. You might not think some of these matter at all, making this neobank a fantastic choice for you, but for others, disadvantages listed below might become real roadblocks to using the product. In a general case, these are the downsides of Vivid
High ATM Fees After Free Limit: If you withdraw more than €1'000 a month in cash, the fees add up quite fast

Cashback Requirements & Limits: You need to maintain a balance of €1'000 (or €100 in holding assets) to be eligible for cashback for next month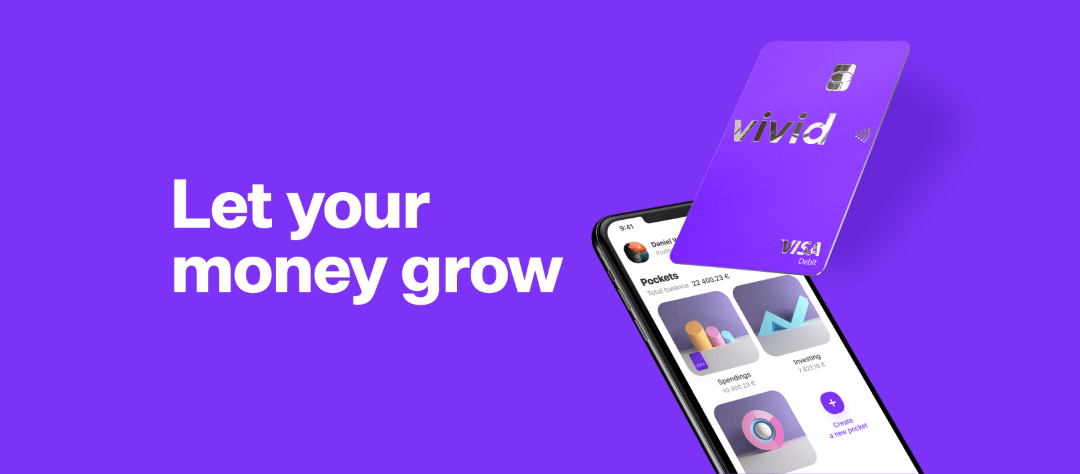 Vivid Money: Frequently Asked Questions
What's Vivid Insta Cashback?
An innovative marketing move by Vivid: users can now benefit from additional cashback offers by sharing Stories through the Vivid app on Instagram and Facebook. Not only that, but you can also get referral rewards for inviting your friends! You can find more details in the app.
Why do I need multiple IBANs?
There is a variety use cases for that feature. For example, when traveling, you can even exchange your money into the country's local currency beforehand with a good exchange rate. That way, you're ready to pay instantly and you don't pay outrageous currency exchange rate fees. It also helps when your budget is visibly split between various "pockets" like "Entertainment", "Savings", "Rent" and such, allowing you to know exactly how generous you can be tonight.
Does Vivid support Google Pay and Apple Pay?
Yes, you can add your Vivid Visa cards (both physical and virtual) to both Apple Wallet and Google Pay. This comes at no extra cost and you can use these methods with as many Vivid cards as you want.
Is Vivid safe? Are my money secure at Vivid?
The money users have at Vivid are - by law, and according to ECB and local regulator's requirements - stored in a fully regulated European bank and protected up to €100'000 by the German Deposit Guarantee Scheme. Moreover, in a potential "User vs Vivid" argument, the user is backed by one of the most consumer-oriented legal environments. The cards' security is handled by VISA (the cards can also be frozen and re-activated at any time with a few taps in the mobile app), and the app's security allows you to modify any settings to ensure even a lost phone is not resulting in a disaster. Vivid's security is on par with big crypto exchanges like US-based crypto exchange Kraken or industry-leading security expert Gemini.
Is Vivid a real bank?
Legally speaking, Vivid is an app used to access bank accounts provided by solarisBank AG, a CRR credit institution supervised by the German Federal Financial Supervisory Authority (frequently referred to as "​BaFin​") and the European Central Bank. So while Vivid itself is a financial institution without a banking license, the funds you hold in your Vivid account are actually stored in a very reputable and regulated bank.
Which countries is Vivid available in?
At this moment, you can only create a Vivid account if you reside in Germany, Spain or Italy. However, you do not need to be a citizen of these countries.
What do I need to open a Vivid account?
Creating a Vivid account is as easy as "1-2-3". Just download the app from Google Play Market or App Store, open it and follow the on-screen instructions. Documents required to open an account vary based on your nationality, but in most cases, all you need is your passport and something to prove your residency in case you're not living in your original country.
What age do I need to be to open a Vivid account?
You can open a Vivid account as soon as you turn 18.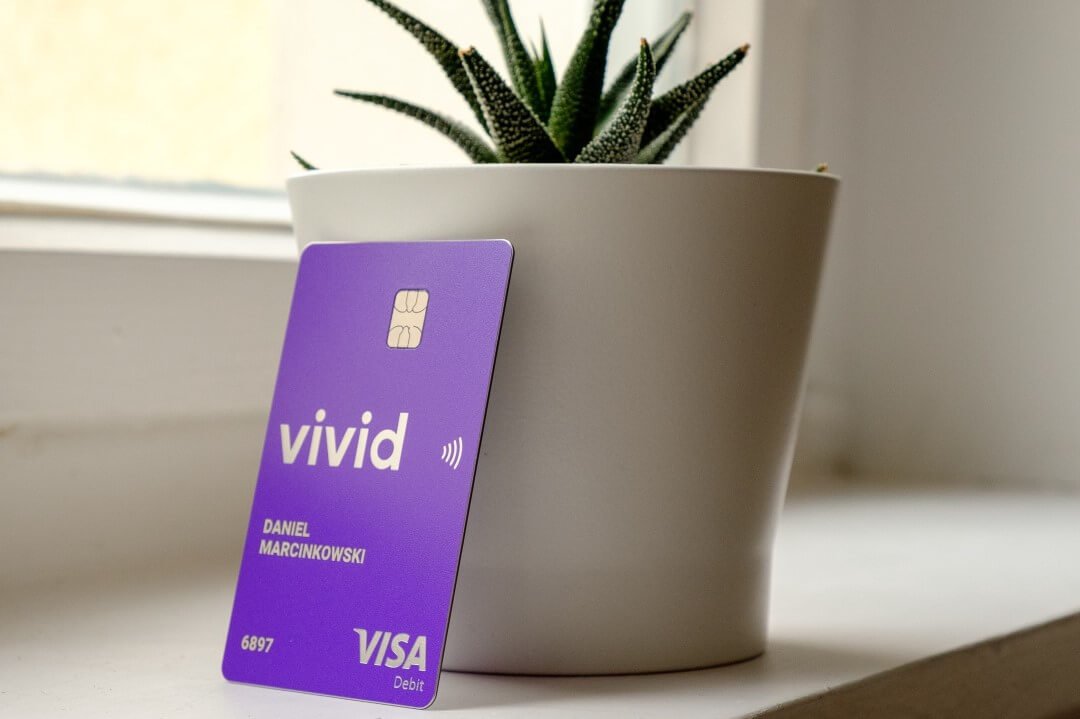 Alternatives to Vivid
Vivid turned out to not be exactly what you're looking for? Take a look at some of the alternatives suggested by our team of experts, read our detailed reviews of these and find your dream partner on the investment journey. We also suggest you take a look at our curated list of the best investment platforms available on the market today.
Are you looking for a new bank? We also have collections of top digital and mobile-first banks both for banking as an individual and for business banking.

Bitpanda
Bitpanda is an "all-in-one" investment platform which allows you to trade stocks, ETFs, commodities, cryptocurrencies and crypto indices - all in one simple app. Execute trades starting as low as €1 and use a Bitpanda Visa card to pay with crypto while earning cashback.

3'000'000+

Vienna, Austria

Expand key information

Desktop App
Auto-savings
Crypto Card
Staking
Crypto Indices
Bank Card
Stocks & ETFs
Cryptocurrencies
Precious Metals
Timed exclusive
Active Promotion for FC Visitors: Get €5 in BEST for free!
Convenience & User-friendliness

Customer Support

Features Available

Trading Fees

Asset Selection

Overall Rating
Trade Republic
A fully-regulated German investment platform for trading stocks, ETFs, cryptocurrencies, Trade Republic is an up-and-coming financial institution with a very easy-to-use product aimed at people looking to make first steps on their investment journey.

1'000'000+

Munich, DE

Expand key information

Easy to use
Over 9000 assets
Regulated institution
Savings plans
Derivatives available
Stocks & ETFs
Cryptocurrencies
Timed exclusive
Active Promotion for FC Visitors: Up to €500 bonus on your deposit!
Convenience & User-friendliness

Customer Support

Features Available

Trading Fees

Asset Selection

Overall Rating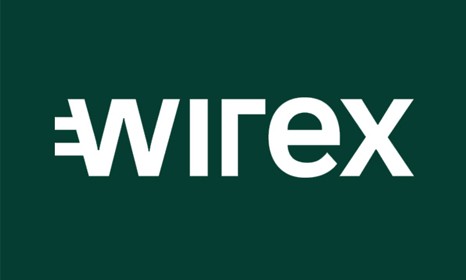 Wirex
Wirex is a simple-to-use platform offering cryptocurrency trading, cashback on purchases in crypto and no fees on fiat currency exchange on top. Wirex also offers very impressive annual return on various assets in a "hassle-free" fashion.

3'100'000+

London, UK

Expand key information

Cashback up to 2%
Fee-free FX
Wirex Token
Regulated & Protected
Up to 16% on deposits
Bank Card
Cryptocurrencies
Convenience & User-friendliness

Customer Support

Features Available

Trading Fees

Asset Selection

Overall Rating
Conclusion: Is Vivid a good choice?
Being a newcomer in high-tech and innovative industries is tough. It is especially challenging when the industry in question is banking: highly-regulated, dominated by traditional banks with their huge market shares and insane brand awareness thanks to hundreds of years of history. And it gets borderline impossible when the primary market you want to target is as conservative and stuck-in-the-past as Germany. However, against all odds, Vivid succeeds in that, continuously growing even in today's turbulent market. That alone is a good indicator of how attractive Vivid's banking product is.
Sure, it might not be as powerful of a crypto exchange as some "Crypto-only" platforms like industry pioneer Kraken or global crypto trading powerhouse eToro are. And yes, it might not have the user base neobanking superstar Revolut has. But the unique mix of digital-first banking, hassle-free investments and a variety of features for budgeting and savings Vivid offers is definitely something worth experiencing yourself.
To sum it up, Vivid has a strong proposition for individuals looking for a "all-in-one" digital finance app. The fees are somewhat high, but if your investment volumes are not in the tens of thousands, the added convenience, cashback options and a variety of security mechanisms in place more than make up for the costs. Vivid is a great choice for anyone looking to kick off their crypto investment journey, just like it is one of the best mobile banking options. This is even more true in case you're looking to form a habit of keeping track of your expenses and thinking about growing your wealth. Besides, a free trial (with a free metal bank card in a stylish purple color!) gives you ample time to check Vivid out yourself and decide if it's worth it that way.
Featured Content