Bitpanda launches automatic staking for 10 coins
---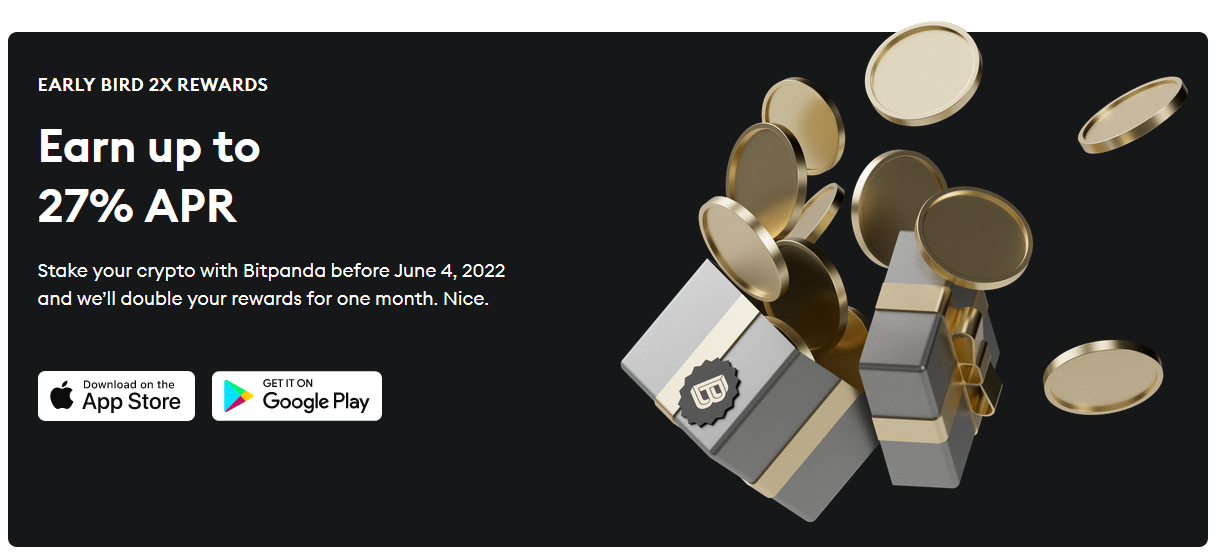 Last Tuesday Bitpanda announced launching Bitpanda Staking, a highly anticipated feature allowing users to earn up to 27% APR on a selection of 10 crypto assets. The launch is combined with a 2x promotion where users can get double the rewards for staking their coins on Bitpanda - it will only last for a month, so make sure to be one of the early birds!
Staking is a process that allows you to participate in transaction validation on Proof of Stake blockchains - these include, for example, Tezos, Cosmos and Ethereum) which the coin holder will be rewarded for. Bitpanda's version of staking involves getting weekly rewards of up to 27% APR. Rewards are then staked automatically, so your investment can keep growing - this basically equates to having interest rate compound on your deposits.
Bitpanda is an "all-in-one" investment platform offering over 50 cryptocurrencies, multiple crypto indices, stocks, ETFs and precious metals. Founded in 2014, Bitpanda became not only Austria's first fintech unicorn (a start-up company valued at over €1 Billion), but also one of the fastest growing fintech companies in Europe. Today, Bitpanda (formerly known as Coinimal) claims to have over 3 million users and enjoys some positive customer feedback on review aggregators like Trustpilot (with an impressive average of 4,4 out of 5 stars).
Learn more by visiting the original source of this news article.